We recently launched the Students Online: Global Trends report– a look at how prospective students worldwide use online resources during their university search. The report's key findings in part confirm intuitive assumptions about how prospective students would approach this task, but there are also some more surprising results…
1. The wider availability of online resources has not diminished demand for offline resources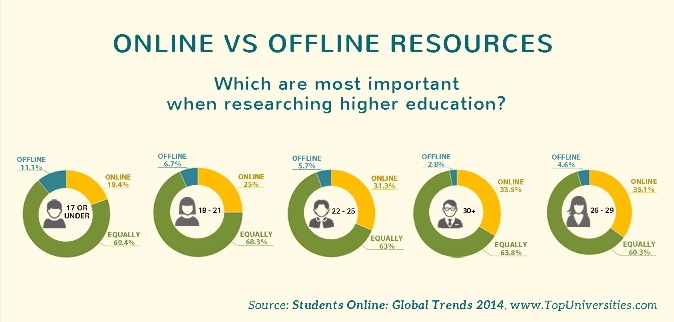 We asked prospective students whether offline or online resources played a more valuable role in their university search. Almost two thirds of respondents rated the two equally important. While acknowledging the value of the vast amounts of information available online, they did not view this as a replacement for offline channels of advice and information – including opportunities to meet university staff members in person, as well as guidance from friends, family members and alumni. And the youngest, 'digital' generation were the most likely to place a higher value on these offline sources.
As one master's degree applicant told us, "If it's just online or a magazine, you may not get exactly the information you need. Face to face, you can ask as many questions as you want." And a current PhD student recalled, "The people I spoke to, in person or by email, played the biggest role. That was more helpful than just relying on what a website says."
2. A majority of prospective students use social media to research universities…
While social media was rated less important compared to online resources such as official university websites and rankings sites, only 10% of our survey respondents said they didn't use social media at all during their university search. The same percentage classed social networks as an "essential" online resource during this period, with 20% rating social media "very important", 32% "quite important" and 30% "not so important".
The function most commonly associated with social media when researching universities was to get ideas and inspiration – cited by 40% of those who said they used it. A further 21% of those using social media in this context identified it as an additional way to compare universities – providing a more personal perspective to complement resources such as rankings tables.
3.… But that doesn't mean they want universities to contact them 'socially'
While a majority of prospective students said social media played a role in their higher education research, very few identified this as a preferred method of contacting or being contacted by universities. Although 15% said they had used social media to contact a university, only half that amount said this would be their ideal method of doing so, while only 5% chose it as their ideal way of being contacted by an institution.
Meanwhile email continues to reign supreme as prospective students' contact method of choice, with two thirds of respondents choosing it as their ideal way to reach out to a university, and more than 70% preferring to be contacted this way. It seems that – lamentations about slow response times aside – applicants still feel email provides the optimal balance of the formal and the personal.
One undergraduate applicant told us, "Social media could be a good start for getting in touch with the university. Still, you need to trust the official status of it." A prospective PhD student was more definitive in her dismissal: "I don't use social media to research universities. I feel it's a form of marketing. If you want proper information, you go to the website and contact the relevant person."
4. The most-used social networks in higher education research are…

… Yes, Facebook was the clear number one when we asked prospective students which social networks they'd used to research universities – but the runners up might not be so easy to guess. Overall, LinkedIn was named the second most-used social network when researching universities (good news for the platform's recently launched University pages), followed by YouTube (good news for universities investing large percentages of their marketing budgets in video production).
Respondents in Africa were even more likely than others to say they'd used Facebook to research universities, while Latin Americans were most likely to choose Twitter and those in the US and Canada were the leaders when it came to LinkedIn. Prospective students in Asia were more likely to select "other", reflecting the fact that our survey did not list popular Asian social networks such as Renren and Youku (more detailed insights on this to come next year).
5. Different online resources are not JUST used for the most obvious purpose
#
Official university websites are used to find up-to-date information about course content and admissions requirements; rankings sites are a quick way to compare universities; student forums can be a good source of new ideas or personal advice. These assumptions all make sense and are largely confirmed by the results of our survey. But we also found significant diversity in prospective students' use of each online resource. For instance, rankings websites were also often used to get ideas and to access information about courses. Social media was named by many as a means to compare universities, while other third-party websites about universities were a significant source of information about applications and funding opportunities.
So while prospective students do associate certain types of online platform with specific tasks, they're also likely to be using each to fulfil multiple goals – compiling a rich research portfolio based on a diverse and cross-sectioned array of sources. 
6. Informational challenges vary depending on location and study level
Finally, we asked prospective students what information they'd had difficulty finding online. Here there are again some clear overall trends: applicants in every location and of all ages were most likely to say they'd struggled to find information about scholarships and funding. But beyond this, more specific informational challenges emerged.
For instance, prospective students in the US and Canada were almost twice as likely as those in Latin America to report difficulty finding information about course content – whereas the opposite applies in relation to information about student visas. Here we could surmise that those in Latin America were more likely to be considering studying outside their own world region – as our previous research report would suggest – and therefore more concerned about international visas.
When broken down by study level, those applying for PhD programs were even more likely to express difficulty finding information about funding, while those applying for undergraduate degrees were significantly more likely to be struggling to get adequate information about the location.
For the full insights, download the full Students Online: Global Trends report below. (Free to download; site registration required.)