In the last of my series of blog posts on trends in internet usage, I'm looking at what the findings of our global survey tell us about students in the Americas. Specifically, I thought it would be interesting to see if any major differences appear when comparing the responses from students in Latin America with those in the US & Canada.
The results? Well, some clear differences certainly can be highlighted – in terms of students' reported internet usage, most-used internet devices, and social network usage.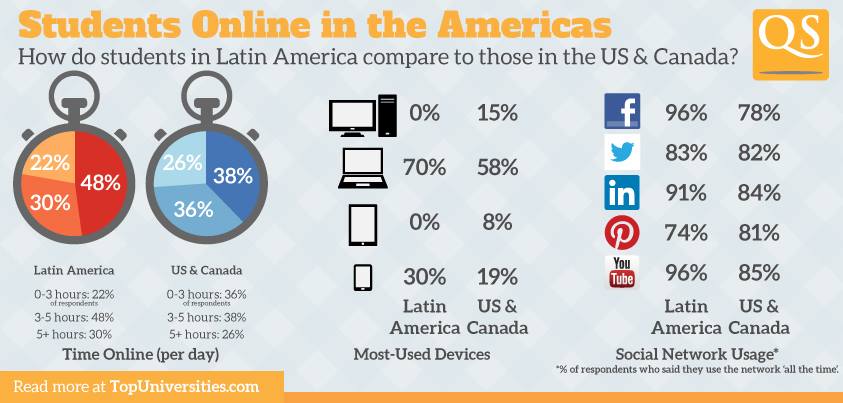 Average time online
First, we asked students to estimate how much time they spend online per day. For both groups of students in the Americas, the most common answer was 3-5 hours – selected by 38% of those in the US & Canada, and almost half of those in Latin America.
Students in Latin America were slightly more likely to have higher internet usage, 5+ hours, with 30% choosing this compared to 26% in the US & Canada. Overall then, Latin American respondents reported higher amounts of time spent online per day.
Most-used internet devices
Next, we asked students to identify the internet device they use most often. As for all the world regions included in the survey, the most commonly selected device for both Latin America and the US & Canada was the laptop.
However, Latin America was the only region where no respondents chose either desktops or tablets in response to this question – all picked either laptops or smartphones. Indeed, Latin America had one of the highest percentages of respondents who selected smartphones as a primary internet device, at 30%.
In the US & Canada, meanwhile, the findings showed more diversity in most-used devices, with 15% of respondents saying they used desktops most, and 8% choosing tablets.
Social media usage and most popular networks
Finally, we asked about students' social media usage, asking them to identify which social platforms they used 'all the time'. Across the Americas (and indeed the world), all five of the social networks we asked about received very high levels of response. In this instance, well over 70% of respondents said they used all of these platforms 'all the time' across both regions.
Overall, students in Latin America were more likely to report very high levels of social media usage. A whopping 96% of respondents in this region said they use both YouTube and Facebook all the time. In the US & Canada, rates were slightly more moderate – 85% for YouTube and 78% for Facebook.
In fact, Pinterest was the only of these five social networks for which students in the US & Canada reported higher usage compared to those in Latin America. This time, Latin American respondents were closer to the global norm – as the youngest of the social platforms we asked about, Pinterest generally had lower levels of usage reported than the other four; the US & Canada was the exception.
Hungry for more global internet usage trends? Get the full Students' Online Usage Report >