In the 21st century, the world is basically a global village. We have the chance to travel and study abroad, to experiment and experience whatever makes us tick. What an awesome time to live in, isn't it? However, very often, if you want to get a degree from a world-renowned university, you need to study in English. Like it or not, that is the "global" language and many of the best universities in the world offer programs in English alone.
Are you worried that your English is not good enough? Do you want to improve your English language skills? The best possible way to do so is to practice in an English-speaking environment, taught by native speakers. However, to travel to the UK, the US or Australia might be a bit too expensive for most. Don't despair! There are other possible destinations, which offer high-quality English language courses and often at much more reasonable prices. Here is a list of some of the most popular countries in which to study English, besides the usual suspects:
Malta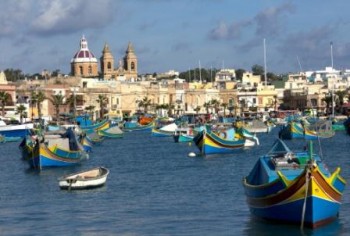 A small island in the Mediterranean Sea, Malta is located just to the south of Italy. This little piece of heaven is the perfect place to improve your English language skills and have the time of your life! Practice during the day, explore during the night – Malta has lots to offer and you will not be disappointed. English is one of the two official languages, which makes Malta an obvious choice for people from all over the world seeking English language courses.
The island is one of the most popular destinations in which to study English, with more English language schools than you can imagine. Most of them are located in the capital La Valetta, the mysterious city of Mdina or by the tropical St. Julian's Bay. The prices are usually around US$1,600 for two weeks, which includes the language course itself, accommodation and entertainment program, ensuring that you will never forget your trip. You can register for a longer course if you wish or take some time to travel and explore the magical beaches, the medieval monuments of the "Silent City" (Mdina) or the neighboring exotic island of Gozo!
Canada
The US's northern neighbor is also worth considering. Canada is one of the largest and most interesting countries in the world. One of the official languages is English, which makes it another ideal setting in which to study and improve your English language skills. There are lots of English language courses available in Toronto, Canada's largest city. Apart from good education, Toronto has a lot more to offer, from unrivalled nightlife to some of the best cultural venues on the continent.
Alternatively you may choose to study English in the Canadian capital, Ottawa, or over on the west coast in Vancouver, renowned for its combination of coast and snow sports resorts. You can expect English language courses in Canada to cost about US$1,400 for two weeks, including your studies, accommodation with a host family and education materials. Practice your English, watch hockey, try the delicious maple syrup and enjoy magnificent views and landscapes like no other!
Cyprus
As strange as it may sound, Cyprus has one of the best language schools in Europe and is another great place to improve your English. The small island, located in the Mediterranean Sea just below Turkey, offers a study holiday you will never forget – purposely built English language schools with modern facilities, a warm climate almost all year long, golden tropical beaches… What more could you want?
The most popular study destinations in Cyprus are Larnaca (the third largest city) and Episkopi (a small village next to the second largest city, Limassol). Here, English language courses usually cost about US$2,000, with the price including everything apart from travel expenses. Cyprus is a very popular tourist destination, so you might as well combine what's useful with what's pleasant and visit the island. There is nothing better than practicing your English beneath a palm tree in one of Cyprus' famous sea resorts. You may also have the opportunity to visit Greece, while you're there, as the island is in close proximity to the ancient land of Zeus and Hercules.
New Zealand
Are you a fan of the Lord of the Rings? Do you like the idea of studying amidst beautiful green landscapes and friendly local people? If so, consider enrolling in an English language course in the magical islands of
New Zealand
. The nation is located just to the south of Australia and is popular among students and travelers alike. English is the official language, which makes it once again a perfect environment to practice your skills. Most of the language schools are located in Auckland, New Zealand's largest city. The prices are usually about US$1,400 and include your studies, accommodation and chance to use the school's facilities during your stay in New Zealand. This is another incredible opportunity – study English, practice your water sports and admire the unique natural landscapes for which the country is famed.
South Africa
A former British colony,
South Africa
is another of the world's major English-speaking nations. English is one of the country's 11 official languages and is widely used among the population. South Africa will offer you the perfect combination of studies and holiday – English language schools plus the ultimate African experience. Who doesn't want to go on a safari, or relax on the hot sandy beaches near the Atlantic Ocean? Many of the language schools are located in Cape Town, which is South Africa's third largest city and also one of its most beautiful, combining modern architecture with picturesque surrounding landscapes. Course prices are around US$1,400 for two weeks and include everything besides travel expenses. If you've always wanted to visit Africa, this could be the perfect excuse!
Note that you may need a visa, depending on the location of your home country, in order to register for some of these language courses.