If you're currently searching for a study abroad program, you're likely to appreciate how hard it is to choose one place for your international student experience – there are so many exciting options! Below is a list of regions spanning the globe, and the reasons many students choose to study within their borders. Ranging from outdoorsy opportunities and close encounters with exotic wildlife, to metropolitan sophistication and cultural nerve centers, there's a study abroad destination to appeal to everyone. Which will you choose?
Latin America – for international students with rhythm, a taste for steak and a head for languages
As a region known for its passionate, vibrant cultures, and local people who can actually dance to a rhythm, Latin America is a popular choice among international students wanting to explore a spirited local culture while developing their Portuguese or Spanish language skills. A desire to learn and interact in the local language is essential, and many of those who choose to study in Latin America are working towards a related degree in languages, humanities or other cultural studies.
Each Latin American country varies radically; Brazil may appeal to festival lovers, Mexico to those with a penchant for dusty disorder and rich historic interest, Argentina to those with a passion for dance and/or steak, and Chile to those wishing to catch a glimpse of the most monumental natural sights.
For more in-depth information about studying in Latin America, visit our individual country guides and take a look at the 2014 QS University Rankings: Latin America.
Asia – for international students with a head for high-tech, a passion for Eastern culture and a strong work ethic
If you're from a country in "the West", moving to Asia to study abroad is likely to present a major culture shock. Students interested in studying in Asia (popular destinations include Japan, Malaysia, Hong Kong, South Korea and India to name just a few) will not only be interested in discovering Eastern culture and ways of living; they are likely to also be business-minded and knowledgeable about Asia's fast-growing influence within the spheres of technology and business, not to mention the eclectic and delicious cuisines of each country.
Reflecting the region's strong focus on science and technology development, universities in Asia are particularly strong internationally within the STEM subjects (science, technology, engineering and mathematics). The highest ranked Asian university in the 2013/14 QS World University Rankings® is the National University of Singapore (NUS), placed at 24th in the world.
For more of the top universities in Asia, take a look at the 2014 QS University Rankings: Asia >
Australia – for international students with a sunny outlook, a surfboard and love of wildlife
Appealing to fans of sun, sea and surf as much as to those interested in arts, culture and city life, Australia is one of the world's most popular countries to study abroad in. Regardless of personal interests, Australia has recently been named the happiest country in the world, thanks to good healthcare, low crime and great education. To study in Australia, students will need a high tolerance for sun exposure and will likely have an interest in exploring the sights and wildlife beyond the cities – if you're going to travel this far, you may as well make the most of it! A taste for barbecues would probably help too.
The highest ranked university in Australia is Australian National University, currently ranked 27th in the world.
For more information about studying in Australia, visit our guide >
New Zealand – for international students seeking open spaces, stunning views and progressive politics
For those not attracted to the abundance of biting, venomous things in neighboring Australia, New Zealand may well be a first choice, thanks to its lower population of spiders and complete lack of land snakes. This is not to say New Zealand doesn't appeal to wildlife lovers however; in fact the country is well known for the fact that humans are outnumbered here even by sheep. Overall, only 5% of the country's population is human – the other 95% is animals!
Study abroad students in New Zealand will likely be those who enjoy open space (New Zealand is about the same size of the UK but holds almost 59 million less people), stunning views (such as the world's most visited travel destination according to TripAdvisor, Milford Sound) and gender equality (New Zealand was the first country allowing women to vote and the first to have a woman in all the highest positions of power – Queen, Governor-General, Prime Minister, the Speaker at the House of Representatives and Chief Justice – in 2006).
Want to study in New Zealand? Visit our country guide >
UK – for international students with educational ambitions, an addiction to tea and an ability to queue
Whether it's within the capital or outside, students wishing to study in the UK will likely have a penchant for history, culture and tea, not necessarily in that order. Students studying abroad in the UK will overlook the not-always-so-sunny weather in favor of more pressing factors, such as great heritage, thriving arts and culture and internationally renowned higher education. As well as being the place for literature, theatre and music buffs, studying in the UK also appeals to those wanting to live in a diverse and liberal society with the utmost respect for queuing.
The UK boasts the third highest ranked university in the world, the University of Cambridge, and a mass of other high-ranking institutions, second only to the US in number.
Want to study in the UK? Visit our guide >
Continental Europe – for international students who dig fashion, design and café culture
Those not won over by the charms of the UK may well be impressed by another European country. France perhaps, reserved for the sophisticated and fashionable, or Italy, for fans of high-end glamor and long coffee mornings. Or perhaps Germany for those interested in indie and underground music, or Sweden for students who value clean air, modern design and wide open spaces.
For more information about studying in Europe, visit our country guides >
US – for international students who love road trips, global politics and Hollywood one-liners
Long known as the pinnacle of quality higher education, the US will appeal to study abroad students looking to get the best education they can in a highly developed country. International students in the US are likely to be technology-savvy, appreciative of big cities and looking to thrive in the most powerful and culturally pervasive country in the world.
International students in the US are also often ambitious and driven, having battled for selection in a tough admissions process, and often paying high fees in return for the chance to study at a US university. Although the experience of studying in the US differs hugely depending on the state and city or town chosen, students often come for the diverse urban lifestyle, good nightlife, and the chance to act out their own version of the US depicted by Hollywood – from eating in traditional diners and taking road trips through small-town America, to finding out what 24-7 really means amidst the bright lights of the Big Apple.
For more information about each US state, take a look at our state guides >
Canada – for international students who want a different take on North American life, culture and countryside  
The US's northerly neighbor, Canada is the study abroad destination of choice for students looking for many of the same benefits offered by the US, but within a subtly different environment. Canada has all of the modern comforts of the US, and many high-ranking universities, and it's also known for offering unrivalled natural beauty (the Rocky Mountains provide the backdrop to the vibrant city of Vancouver), adventure (Canada offers some of the only cities in the world where you can swim in the sea and ski on a mountain on the same day) and brilliant wildlife (moose, grizzly bears and whales for instance). For these reasons, Canada will suit adventurous lovers of nature and wide open spaces, who still want the vibrancy and choice of great cities such as Montréal, Toronto, Vancouver and Quebec.
Want to study in Canada? Visit our guide >
Africa – for international students with curiosity, adaptability and cultural sensitivity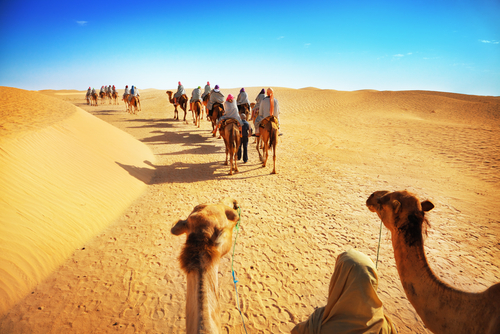 Studying in Africa and the Middle East will appeal to adventurous, curious, politically engaged and forward-thinking students. From the thriving economy of the United Arab Emirates, to the high-tech culture of Israel, this region and its universities are gradually establishing a stronger international appeal.
In recent years South Africa has seen huge economic growth, earning itself a place as the fifth member of the fast-developing BRICS countries, alongside Brazil, Russia, India and China. In some respects South Africa is still very much a rough diamond, with persistent issues of poverty, crime and health. Therefore, students attending university in South Africa will be tenacious, sensible and knowledgeable about local tensions and issues, in order to enjoy the lighter and inspiring sides of South African life, for instance its live music, political activism and rich natural surroundings.
Egypt is the only other African country to garner ranked universities in the 2013/14 QS World University Rankings®, likely to appeal to students interested in delving into the country's renowned history, as well as its more recent political, cultural and social turmoil, during the "Arab Spring" series of protests and revolutions.