Statistics released this week by the European Commission show that Erasmus, the flagship educational exchange program funded by the European Union, awarded grants for studying and training abroad to a record-breaking number of students (nearly 27,000) between 2012 and 2013.
Erasmus is one of the largest and most successful programs for study abroad funding in the world. Led by the European Union, the Erasmus scheme provides grants to an ever increasing number of students, academics and staff each year – so far having supported a total of three million people since its establishment in 1987.
Currently 10% of all EU students study abroad with the support of public and private funds, with as many as half of this number receiving an Erasmus grant. The average monthly grant is now €272 (US$370) – a 9% rise on the previous year (€250).
While the study abroad funding offered by Erasmus is well known, many people don't realize that the scheme also offers many grants to non-students. Between 2012 and 2013, over 52,600 academic and administrative staff received Erasmus funding for teaching or training abroad, along with 500 staff members from businesses (more than 20% up on the previous year).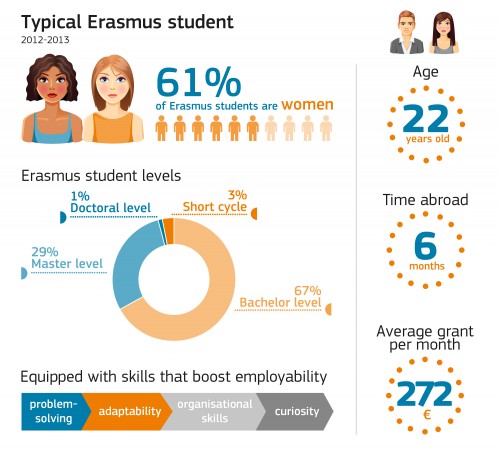 (Source: European Commission)
Spain has highest number of Erasmus students
The European Commission's report also highlights how active different countries are within the scheme. According to 2012-13 data, the three most popular destinations for Erasmus students were Spain, Germany and France. Spain also sent the most Erasmus students out of the country to study abroad.
Other findings highlight that the average Erasmus student is 22 years of age, typically planning six months of study abroad, with 67% studying at bachelor level. Female applicants make up 61% of Erasmus students. Although study abroad funding continues to represent the largest segment of Erasmus participation, 55,000 people (one fifth of awardees) were awarded grants for job placements outside of their country.
(Source: European Commission)
€15 billion to be awarded in the next seven years
In the next period (2014-20), plans are set for the initiative to grow exponentially as part of the European Commission's reform strategy, aimed at modernizing higher education and increasing student mobility by at least 20%. The study abroad funding that Erasmus offers is a key part of this strategy, and the scheme has been given a 40% budget increase for the next seven year period, bringing its total budget to €15 billion (US$20.4 billion).
With this extra funding, Erasmus+, launched in January of this year in place of the Lifelong Learning Programme, plans to award grants to four million people over the next seven years. Among this number are two million higher education students and 300,000 staff members. As many as 135,000 student and staff exchanges are planned to take place throughout Europe and in partner countries worldwide.
Along with European Commission's aims for dramatically increased student mobility, Erasmus+ will now begin offering dedicated funding for apprentices and volunteers, as well as offering more flexible rules for all its grants. Erasmus+ also aims to further its support system over the coming years with added emphasis on linguistic support, as well as additional support for those with special needs or from disadvantaged backgrounds and remote areas.
Looking for study abroad funding?