Stonewall, a UK charity which lobbies for the equal rights of the lesbian, gay and bisexual community across Britain, launched the 2015 edition of Gay By Degree this week. This guide rates UK universities by how gay-friendly they are. Aimed at helping prospective LGBT students search for inclusive places in which to study, it features 158 UK universities, six of which score a perfect 10 out of 10.
Gay-friendliness at UK universities, 2010 to now
Gay By Degree has been running since 2010, a relatively short time span, yet still one in which it's possible to track the progress made in the UK regarding support for LGBT students. Whereas today there are six gay-friendly universities scoring top marks and 11 more scoring nine out of 10, the guide published in 2010 had yet to feature any perfect scores.
In this year's edition of the Gay By Degree guide, the six top-scoring gay-friendly universities are Cardiff University, the University of Essex, the University of Glasgow, Liverpool John Moores University, Sheffield Hallam University and York St John University. Other gay-friendly universities scoring nine out of 10 are UCL (University College London), the University of Birmingham and the University of Sheffield, among several others.
How gay-friendly universities are rated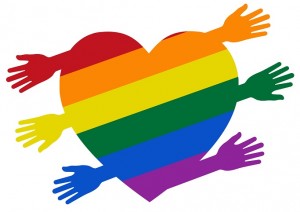 The criteria for the Gay by Degree ratings are based solely on publically available information that is listed on official university domains and student union websites. These criteria consider the prominence of LGB-oriented societies and events on campus; whether the school's harassment policies specifically mention sexual orientation; and whether LGB students are represented in areas of university decision-making. Although Stonewall does not explicitly look at the support available for transgender students, often it is the case that university policies and student initiatives aim to provide support for all LGBT students in the development of inclusivity and equality.
Of the 158 UK universities listed, 85% offer a student society dedicated to LGB students and 72% host publicized events aimed towards the lesbian, gay and bisexual student community. The ratings also look at information regarding the monitoring of student sexual orientation, which 22% of universities were found to do. Another of Stonewall's findings shows that just 20% of schools were seen to be engaged with the wider community on issues of lesbian, gay and bisexual rights.
Some UK universities yet to meet gay-friendly criteria
One of the more surprising conclusions to be gained from Stonewall's 2015 Gay By Degree guide is that a total of 11 UK institutions are yet to meet any of the criteria laid out to gauge gay-friendliness. These numbers include the institutions which had no information regarding the LGB community available online, reflecting Stonewall's deliberate emphasis on the importance of making this kind of information easily accessible for prospective students.
Among the UK universities gaining zero points in the ratings were the Glasgow School of Art, the Liverpool Institute of Performing Arts, the Royal Academy of Music and the Royal College of Music.
Education policy and campaigns officer at Stonewall, Hannah Kibirige, spoke to The Guardian about the issues still needing to be addressed. "It's particularly concerning that only 35 universities are monitoring the sexual orientation of students, leaving them no way of telling if they're providing a positive experience for gay students. Universities also risk missing out on a huge pool of talent with eight in 10 failing to actively reach out to potential LGBT students or engage with the local community on LGB issues," she says. "We hope that this year's findings prompt action by the higher education sector to consider the needs of all their students, regardless of sexual orientation."
To see the full rating of gay-friendly universities, and to gain more information about LGBT rights, visit Stonewall.org.uk.