Aaah, Russia. A land of snow, extreme weather temperatures and a vividly colorful history which spans over 1,000 years, Russia is also one of the most amazing places to spend Christmas.
Of course, for most of us, Christmas dinner usually consists of a generously-sized roast turkey accompanied by mouth-watering cranberry sauce, crispy roast potatoes, deliciously steamed vegetables, spicy gingerbread biscuits, aromatic mince pies, sticky fruit puddings…need I go on? In Russia, however, dishes tend to be a little different.
Prior to the Russian revolution of 1917 and the fall of the Romanov dynasty that had ruled the country for over 300 years, Russia was loyally Orthodox Christian. Under Soviet rule, however, atheism became the order of the day, and typically religious days in the calendar (such as New Year's Eve and New Year's Day) became eagerly-celebrated national secular holidays.
Nevertheless, not long after the collapse of the Soviet Union in 1991, the ghosts of Russian Christmas past made a rather heart-warming return, and the religious spirit quickly resumed, with customs and traditions becoming cherished again. So, Christmas Day is commonly observed on January 6 rather than December 25, due to the Orthodox Christian observance of the Julian Calendar.
This unique national history and the Orthodox influence means a Christmas in Russia is distinctly different from how countries in the west celebrate. If you fancy celebrating Russian-style this year, be sure to try these delicious festive Christmas dishes in Russia – but don't read with an empty stomach, please.
Savory dishes   
Olivier salad
A staple dish on any Russian Christmas dinner table, the Olivier Salad (also known as the Russian Salad) was first invented in the 1860s, by Belgian chef Lucien Olivier. As the owner of a Parisian-style restaurant in Moscow named the Hermitage, Olivier's salad creation quickly became a much-loved favorite. It's made with diced boiled potatoes, eggs and carrots, pickles (or gherkins), peas, boiled meat and apples, and dressed with plenty of mayonnaise.
Variations of the salad are also popular in many other post-Soviet and European countries, and even in parts of the Middle East and North Africa (particularly in Algeria, where it's referred to as the 'Macédoine'), and across Latin America.     
Deviled eggs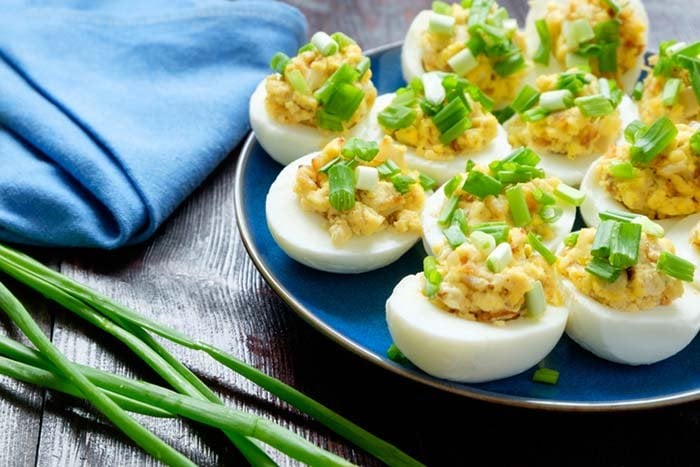 The name sounds a little satanic, but these divine little beauties are an absolute genius of a dish and ridiculously easy to make. The first record of this dish (also known as Russian eggs or stuffed/dressed eggs) was during the Roman era, where they boiled and seasoned eggs to serve as appetizers for wealthy members of the Roman society.
Today, deviled eggs are very popular across European and North American countries, and are often made by stuffing hard-boiled eggs with a mouth-watering mixture of other ingredients such as mayonnaise and mustard, spices, pickles, cheese, and meats or seafood – yum.
Pirozhki (stuffed buns)
Pirozhki (correct pronunciation: piroshki) is a delicious and easy-to-bake must-have culinary delight on every traditional Russian table. I personally have a weakness for anything stuffed, particularly a pastry stuffed with meat (*drools*), which is precisely what pirozhki is.
These tasty, cushiony buns – golden and crispy on the outside, soft and doughy on the inside – are stuffed with a generous amount of savory meat (usually beef) or a conservative vegetable filling consisting of mushrooms, mashed potatoes, onions and egg, or cabbage if your Orthodox Christian beliefs mean you are fasting.
If you have more of a sweet-tooth, then fear not, because pirozhki can also be stuffed with sweet, fruit fillings made from apples, apricots, cherries, and much more.   
Variations of this dish are also traditionally made and enjoyed in southeast Europe, the Baltic region, Japan, Finland, central and east Asia, parts of the Middle East, the Caucasus, and North and Latin America.
Dried mushroom soup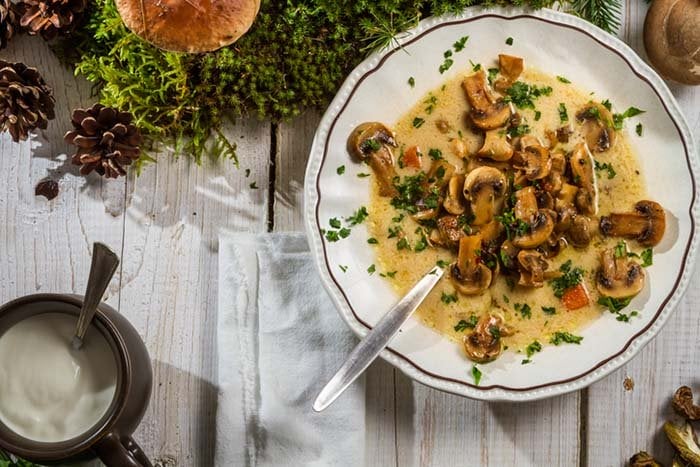 Hunting and preserving mushrooms is a national pastime in Slavic countries, and, of course, Russia is no different. Here, mushroom soup is a Christmas Eve staple, lovingly prepared for the harsh, cold months of winter, when mushrooms aren't naturally available.
Mushrooms are delightful in all forms, but the nutty, extra-flavorsome taste of dried mushrooms is a whole other level of succulence. Conveniently prepared with a small amount of oil rather than butter – to keep with the strict fasting rules – the soup is usually served with mini pirozhki or pelmeni dumplings, usually made with a non-butter dough and stuffed with a non-meat filling.   
Some families may prefer other variations of soup, such as borscht (a sour beetroot soup of Ukrainian origin, served hot or cold).  
Kulebyaka (Russian salmon pie)
Not all those observing the Lenten fast are allowed to eat fish, eggs and butter, however, for those who do, kulebyaka is a delicious option. It's a salmon turnover made with butter, eggs, dill, rice or buckwheat, onions and mushrooms, all neatly encased in a deliciously warm and crisp puff pastry.  
Boasting a rather interesting history, it was created in the 1800s – at a time when fish was an important part of pre-revolutionary Russian cuisine, to replace meat during Russian Orthodox fast days.  
Peljmeni (Russian meat dumplings)
Also known as 'Russian meat dumplings', these attractive little appetizers consist of a delicious savory filling wrapped in thin, unleavened dough.
Traditionally filled with ground beef, pork (and sometimes lamb), and garlic and onions, peljmeni (or pelmeni) is alternatively filled with non-meat fillings consisting of sauerkraut and vegetable mixtures (cabbage, potatoes or mushrooms) in other regions of Russia. It's usually served with red wine vinegar, black pepper, and melted butter, but many enjoy it as a carb-filled addition to soups.
Desserts
Kutya/sochivo
In many parts of the world, Christmas is a time of tight-knit unity and family gatherings, and in the Russian Orthodox tradition, this is even more apparent. Kutya in Russia (also known as sochivo) is a sweet and fruity cereal, usually a concoction of wheatberries (or other grains such as rice, barley, or legumes) and honey, dried fruits, nuts, and sometimes spices or poppy seeds.
It's usually served as the first-course Christmas Eve pudding to celebrate the end of fasting days, and is eaten from a common dish, to keep with the family-oriented sentiments.
During winter festivities, variations of this dish are enjoyed across many other parts of the world where Christian Orthodoxy is observed, including Bulgaria, where it's known as kolivo, Greece (koliva), Lebanon, Palestine and Jordan (ameh maslouk, hboubieh or snuniye), Syria (sliha or burbara, for Eid ul-Bur-bara/St. Barbara's Feast throughout the Middle East), Romania (colivä), Serbia (koljivo), and Sicily (cuccìa).
Vzvar ('boil up')
Vzvar is a sweet fruit compote made of dried fruits which include apples, pears, sour cherries, prunes, currants, raisins, gooseberries and raspberries, mixed with honey and sometimes spices, and then boiled in water.
Along with kutya, it's served as a drink at the beginning of the Russian Holy Supper, with half the glass consisting of the stewed fruit, and is ritually drank to celebrate new arrivals – which at Christmas, symbolizes the birth of Baby Jesus. 
Priyaniki (Russian spice/gingerbread cookies)
No Christmas is complete without ginger and cinnamon cookies dusted with soft icing sugar. In Russia, priyaniki are a wonderfully delicious and spicy batch of festive, home-baked cookies with a beautifully stamped decoration, often filled with jam and traditionally served with either tea or the traditional Russian wintertime beverage known as sbiten – a hot, spicy and very sweet honey-based winter drink, and a popular favorite during the harsh, Russian winters.   
Kolyadki (Russian Christmas cookies with curd cheese)
In rural Eastern Slavic villages at Christmas, a group of locals traditionally walk around from door to door dressed as manger animals, and carol-singing 'kolyadki' (after Kolyada – the ancient pagan god and a holiday of the ancient Slavs before Christianity adoption).
These local entertainers are then given traditional Russian Christmas cookies, which are usually made with rye flour and filled with fresh, locally-made curd cheese.
Pampushky (Ukranian doughnuts)
Pampushky are miniature Ukranian style doughnuts, made of yeast dough from wheat, rye, or buckwheat flour, and traditionally baked (or sometimes fried).
They can be served either sweet or savory. Savory pampushky have no filling, and are usually seasoned with garlic sauce and served as a side dish with certain traditional soups, such as borscht, or ukha (a clear fish and vegetable soup). Sweet pampushky are typically filled with fruits and jams like prunes, berries, varenye (a traditional Eastern European whole-fruit preserve), povydlo (a naturally-prepared Ukranian plum butter), or poppy seeds, and sprinkled with icing sugar, making the perfect dessert for Christmas Eve. 
Kiev Cake
Kiev Cake is probably one of the most popular cakes in Slavic countries, and has been made in Kiev, Ukraine (hence its name) since December of 1956, by the Karl Marx Confectionary Factory.
The recipe of Kiev cake has gone through many changes over time. In the 1970s, less than a couple of decades since the first Kiev cake was made, bakers used a well-made protein-nut mixture, before experimenting with hazelnut and eventually peanuts and cashews. Because of the cashew nuts' expensive price, however, the factory went back to using hazelnuts, and today the cake mainly consists of Russian buttercream sandwiched between layers of sweet, hazelnut meringue…delightful.
--
Want more content like this? Register for free site membership to get regular updates on your own personal content feed.