Once known for the trees and log cabins which gave it its nickname, the "Buckeye State" is today one of the most urban, vibrant, wealthy and business-focused states in the US. Read on to find out about top universities in Ohio and what the state has to offer for students – from the award-winning libraries of Columbus to the renowned party scene of the Lake Erie Islands.
The combination of Ohio's small size and large population (7
th
largest in the US) makes it one of the most densely populated and urbanized parts of the country. Much of the state's population live within its major cities, and the three Cs –
Cleveland
,
Cincinnati
and state capital
Columbus
– are three of the
Midwest
's most vibrant urban hubs (read more on each city below).
With a GDP equivalent to that of Belgium's, Ohio is one of the top 10 US states in terms of prosperity, with manufacturing and financial services leading the way. It also ranks in the top 10 states for Fortune 500 companies per capita, and the resulting employment opportunities have combined with urban regeneration projects to make it a highly attractive place to live for new graduates and young professionals.
Those considering studying at universities in Ohio will no doubt also be attracted by the Lake Erie Islands, widely reputed as a top party destination for students – and of course by the state's thriving higher education system, which includes five entries in the 2013/14
QS World University Rankings
® (read more below).
Beneath all this modern development and forward-looking dynamism, Ohio also harbors lots of history to explore. Traces of the region's earliest inhabitants can be glimpsed at the Great Serpent Mound, believed by some to date back to 800BC and the Adena Indians. Fast forward about 2,600 years and Ohio was at the forefront of the Civil War struggles, leaving a legacy of monuments and historic sites dedicated to the period. The state was also the birthplace of famous Union generals Ulysses S. Grant (also the 18th US president) and William Tecumseh Sherman.
Top universities in Ohio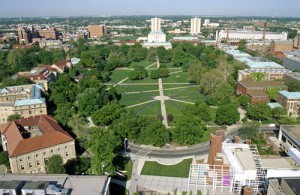 The highest-ranking among universities in Ohio in the 2013/14 QS World University Rankings is Ohio State University, ranked 113th in the world. A Land, Sea and Space Grant University, Ohio State University is considered to be a 'Public Ivy' university – meaning that although the school is public, it is considered to be of Ivy League quality.
The school is the flagship institution of Ohio's public university system, and its main campus in the city of Columbus is the third-biggest in the US, serving nearly 57,500 students. The university spent US$755 million on research in 2010 according to the National Science Foundation, putting it in 16th place in terms of spending – ahead of universities like UC Berkeley and MIT. Ohio State University also counts a Nobel Prize winner and two Benjamin Franklin Medalists among its faculty.
The university's main campus is home to the Wexner Center for the Arts, which is extremely popular for contemporary art, film, concerts, dance, theater and exhibitions. Students at Ohio State University also take sports and competition very seriously.
The school ranks within the global top 200 for 27 of the 30 subjects covered by the 2014 QS World University Rankings by Subject, appearing within the top 50 worldwide for agriculture and forestry, communication and media studies, education and training, English language and literature, geography, linguistics and philosophy.
Ohio's next offering in the 2013/14 QS World University Rankings is Case Western Reserve University, in joint 175th place. Based in Cleveland, the institution is a private university formed from a merger between Case Institute of Technology and Western Reserve College in 1967 (with history dating back to 1826).
Case Western Reserve University receives around US$400 million in external research awards annually and has had 15 Nobel Laureates pass through its doors at some point in their careers. The school currently serves around 10,000 students, more than half of which are studying at graduate level. Case Western Reserve University is particularly strong in several medicine-related fields and is ranked in the world's top 200 for medicine, material sciences and English language and literature.
Under the same public university system as Ohio State University, the University of Cincinnati (ranked 461-470 in the world) is the second largest among universities in Ohio, with a population of over 42,600 students (33,000 of this number study at the main campus in Cincinnati). As a Space Grant university, the University of Cincinnati pulls in nearly US$500 million in research funding annually and students are able to choose from 100 different programs at undergraduate level.
The University of Cincinnati's main West Campus is particularly notable for implementing a 'Master Plan' in the late 1980s and has since been recognized by planners and architects as one of the world's most distinguished campuses. The school also has a medical campus and the Victory Parkway Campus which overlooks the Ohio River.
Ranked within the world's top 200 for pharmacy, the University of Cincinnati is also highly regarded in for its music and arts programs.
There are two more internationally ranked universities in Ohio; these are Miami University (despite its name, not actually based in Miami, but in Oxford, Ohio) and Ohio University.
Top student cities in Ohio
Columbus
Affectionately known as C-bus, the city of Columbus is bigger than you might think. It holds almost 810,000 people within its borders, right behind the population of San Francisco in recent census results.
Study in Columbus and you'll be surrounded by intellectuals. According to the Intelligent Communities Forum (yes, that's a real thing!), Columbus is one of the seven most intelligent cities in the world. The entire world! Unsurprisingly then, the city's library system is brilliant, having received top ratings from the Library Journal for five years in a row and been awarded a National Medal for Museum and Library Service.
After a hefty library session, Columbus can offer you some great (though not so healthy), diners where you can get your fill of Columbus Burgers, huge pizzas, cream puffs and more. After eating, the Columbus Park of Roses in Clintonville and the Glen Echo Ravine are gorgeous spots to relax and enjoy some nature.
As well being named the gay Mecca of the Midwest in 2010 by the New York Times, the whole of Columbus is as passionate as a city can get about sports. American football is so loved that the city turns into a complete ghost town when a home game is on.
Cincinnati
Whether you want to ski, pet sharks or just eat pizza, Cincinnati is a great city. Having evolved in recent years into a thriving financial and cultural hub, the city is home to a number of the state's Fortune 500 companies as well as an eclectic music and arts scene.
If you know where to go, Cincinnati is a top place for nightlife, offering great bars and pubs that you can settle down in for the evening. Cincinnati also knows how to run a good festival. The city is home to the longest running culinary arts festival in the US (which sees 500,000 food lovers flock to the city annually), as well as Midpoint Music Festival, Cincy PunkFest, The Flying Pig Marathon and MainStrasse Village GoettaFest (basically a big, German sausage festival).
Cleveland
Cleveland, located on the edge of Lake Erie, has been ranked as one of the most livable cities in the US thanks to its inexpensive accommodation, community spirit and world-class healthcare. A contender for the title of the 'Birthplace of Rock & Roll', Cleveland is home to the Rock and Roll Hall of Fame. Elsewhere on the music spectrum, the Cleveland Orchestra is considered to be one of the world's best. Along with great theater, festivals and corned beef sandwiches, Cleveland also offers some unexpectedly beautiful beaches along the banks of Lake Erie.
Other towns and cities to explore while studying at universities in Ohio are: Dresden, Dayton, Athens and Akron.
Ohio: Fast fasts
Ohio has a population of over 11.5 million.
Ohio comes from the Iroquois word ohi-yo, meaning 'large creek'.
Like Virginia, Ohio calls itself the 'Mother of Presidents', having been the place of birth of seven US presidents.
As a Midwest state, Ohio is extremely accessible – as much as 50% of the entire US population lives within a 500 mile radius of Columbus.
Ohio was a pioneering state in terms of emergency services, giving the US its first hospital-based ambulance service (in Cincinnati) and police cars (in Akron).
The Public Square road system in Cleveland was the first in the US to be lit with electric street lights (and the second worldwide).
Ohio's flag is the only state flag not to be rectilinear.
Chewing gum was patented in Mount Vernon, Ohio, by W.F. Semple in 1869.
Ohio also gave the nation its first hotdog.
Famous Ohioans include inventor Thomas Edison, author Toni Morrison, director Steven Spielberg, actor Woody Harrelson, musician Dave Grohl and first man on the moon Neil Armstrong.