Going to university doesn't mean having to spend years living in gross, moldy flats surrounded by dirty washing and piles of smelly underwear. If you're hoping for an experience that's a little bit classier, there are student digs out there with all sorts of luxury features, from sundecks and rooftop pools to yoga studios and volleyball courts.
Think you'd like to try living as an A-lister? Here are some of the most stunning luxury dorms in America.
Nearby university: Massachusetts Institute of Technology (M.I.T.)
Key features: Ball pit, award-winning smoothies, looks like a massive sponge
Rent: Single rooms start at $5,325 per semester
Simmons Hall, nicknamed The Sponge because of its unusual exterior, is quite possibly the only university accommodation to openly boast on its website that it's full of velociraptors. If you're not terrified of dinosaurs, this could be an ideal place to live, particularly if you're vegan (they serve vegan food in the cafeteria). Oh, and did we mention the giant ball pit?
The downside? Your friends from home will get fed up of hearing you talk about the sponge.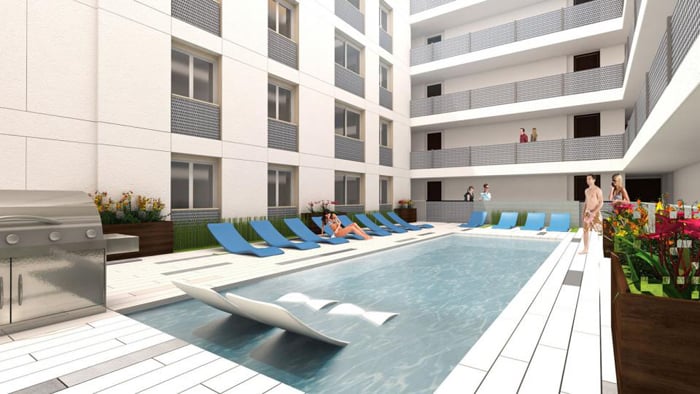 Nearby university: University of Texas
Key features: Rooftop pool, sundeck
Rent: Private rooms start at $868 per month
Pointe on Rio is an ideal home for anyone who wants to be fully immersed in the Austin environment. The University of Texas is just a 15-minute walk away, and you'll also have international food, historic buildings and the hipster hangouts on Guadalupe Street on your doorstep. Or, don't go anywhere, and just relax by the rooftop pool or on your own private balcony.
The downside? Not everyone will appreciate you cannon-balling into the swimming pool.
Nearby university: University of Wisconsin-Madison
Key features: Golf simulator, sauna, recording studio, yoga studio
Rent: Private rooms start at $875 per month
Can you really justify dropping over $900 a month on rent? Well, when it gets you everything you'll have at Hub Madison, it can be. Perfect your swing in between lectures with some virtual golf sessions, or head out onto the ice rink in winter and see how long you can last before falling flat on your back. To be honest, you'll probably forget to ever go to lectures, especially when you could be getting a sweat on in the steam room instead.
The downside? Seriously, you'll need to be really disciplined to ever get any work done.
Nearby university: University of Florida
Key features: Female-only residence, jacuzzis, gourmet kitchen
Rent: Private rooms start at $725 per month
If you want to be as close to sorority row as possible, the University of Florida's only female hall is the place to live. Ivy House offers a safe, female-friendly environment, with a gourmet kitchen and larger dorms than your traditional student hall. Be sure to make the most of Ivy House's sundeck any time the sun is out.
The downside? No boys allowed, sorry.
Nearby universities: University of Pennsylvania, Drexel University
Key features: Rooftop infinity pool, complimentary 24-hour coffee bar
Rent: Private rooms start at $1,119 per month
Just five minutes' walk from Drexel and Penn, Evo provides the perfect environment for helping you with your studies. Need a pick-me-up as you stay up all night writing an assignment? The 24-hour coffee bar will help. Need somewhere to work on a group project? Try the communal study rooms. Need to relax and have a bath? You're in luck: utilities are included.
The downside? The pool's nowhere near as fun when it's raining.
Nearby university: Georgia Southern University
Key features: Hot tub, volleyball court, sunbed
Rent: Private rooms start at $490 per month
If you're hoping for a slightly more active student experience than just staying in bed watching Netflix for the next few years, the wide range of sport facilities at Aspen Heights should get your heart racing. Even if you don't like exercise, the swimming pool and BBQ area should be enough to tempt you outside.
The downside? Georgia Southern University might be lovely, but it didn't make the QS World University Rankings® 2016-2017. Read into that what you will.
Think your university has better accommodation than this? Let us know in the comments below.
Image credits: Pointe on Rio (Courtesy of Pointe on Rio and Student.com), Hub (Courtesy of Hub on Campus and Student.com), evo (Courtesy of evo at Cira Centre South and Student.com), Aspen Heights (Courtesy of Aspen Heights Partners and Student.com).