Guest post: Stefano Malfitano
Study at Yale had always been a dream of mine – its name in politics and social sciences, its beautiful neo-gothic style, its secret societies, its prestige … Yale's allure had always been much more important to me than that of any other college – well before I even started thinking about applying to Yale. 
On applying to Yale...
Applying to yale is extremely challenging, especially for international students. It's not about being 'good', it's about being 'better' – and the competition becomes tougher and tougher every year. Yale currently has about a 6% admission rate, and projections say this is likely to hit the 5% threshold in one or two years.
I must emphasize that I come from a non-standard background: local public high school in a small village in northern Italy, with virtually no international exposure (my parents don't even speak English, nor has anyone in the history of my school ever applied to college abroad). Competing with hundreds of students from all over the globe with better academic support and larger resources often appeared completely impossible – sometimes leading to me contemplating the idea of withdrawing altogether.
Yet, as my experience testifies, admission officers at Yale look through résumés, prestige, and affiliations – assessing each candidate for what he or she really is. My advice then is to be oneself, in the fullest meaning of the expression.
Admissions officers are looking for students who will be able to best take advantage of Yale's endless resources available for undergraduates, candidates who have tried throughout their lives to "earn" their way into Yale.
Perfect scores in standardized tests are not a guarantee of admission at all. Each student when applying to Yale must also show how well-rounded he or she is, displaying critical-thinking, self-consciousness and deep intellectual passion.
On student life at Yale...
Yale's student community is superb. Sometimes it is easy to lose oneself amidst all the academic and extra-curricular commitments, but compared to other colleges I feel that peer competition is less intense and stressful.
Surely, as my roommate once said, "Pressure makes diamonds". Study at Yale is not a walk-through, and the burning ambition of many may become an obstacle sometimes, but overall I feel we have found the correct balance between individualism and community spirit. This is because 'Yalies' pride themselves on their alma mater more than students in other universities, and while we strive to excel in our own field, we also feel part of the same unique community.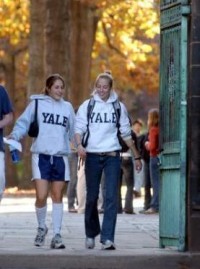 New Haven is undergoing profound changes, and in my three years here I have noticed how fast the gentrification of the area surrounding Yale is proceeding. The city is only 90 minutes away from New York, something no student here fails to appreciate.
Restaurants, cafés and shops are all nicely located around campus, although I must confess that I rarely enjoy myself in those venues, given the large amount of schoolwork every day.
On support for international students...
Yale understands the needs and problems that international students might have – and acts accordingly. There is a variety of different resources available while I study at Yale: freshmen counsellors, international peer liaisons, the masters and deans of our residential colleges, minorities representatives, the Office for International Students and Scholars, and I am sure half a dozen more entities throughout campus.
International students are appreciated by both classmates and professors for their unique perspective, personal background and academic preparation and are recognized university-wide as an invaluable asset.
Yale's effort to expand globally is remarkable, and in the last year internationalization has accelerated exponentially with the strengthening of the MacMillan Center for International & Area Studies, and the inauguration of the Jackson Institute for Global Affairs. For instance, I am a student in the Brady-Johnson "Studies in Grand Strategy" Graduate Seminar, the most prestigious and selective course of this kind in the world, endowed by Yale and donors with around $18m.
Final thoughts...
This is just one of the countless examples that I could draw from as I study at Yale, and opportunities are available for virtually any academic or extra-curricular interest a student might have. Yale's superior commitment to students is reflected in the strenuous effort made to abolish any material obstacle (be it funding, faculty or facilities) between a student and his or her academic and personal goals.
Admission to Yale is not about marketing oneself. It's not about fitting into preconceived types of students, nor about forging a personal narrative that glosses over uncertainties, doubts and mistakes that all teenagers make. Perfect scores too, while necessary, are not sufficient.
Admission to Yale College is about taking the time to truly think about one's own strengths, weaknesses  and contradictions, trying to build on those in order to present a complete and concrete image of oneself and of the dreams, fears and aspirations that belonging to such a great institution would provoke.
Stefano Malfitano is double-majoring in economics & mathematics and humanities at Yale. Originally from Italy, he's vice-president of the university's Italian Undergraduate Society. 
Images: Michael Marsland/Yale University