Other than your laptops, your tablets, your e-readers and your smart phones, what other technologies are available for the modern student, and how can they help promote and speed up learning?
Below is a list of relatively new innovative developments in student technology, combining technology and education both in and outside of the classroom. If you're a student interested in any of these devices, make sure you have the budget before you get too excited…
1. Smart pens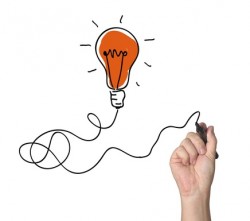 A simple yet nonetheless impressive fusing of of technology and education, the smart pen is a pen that allows you to digitally record all your notes from classes and lectures via smart software which digitalizes your written text, and a sensitive microphone which records audio. Once uploaded, smart pen programs such as the Livescribe Echo Smartpen will allow you mark any point in your digitalized text and play the audio that coincides with the time you wrote the note.
After use, the smart pen's software allows you to upload your recordings and notes onto programs such as Evernote or Google Docs. So whether you're using the smart pen simply to record a lecture, or a journalism or business student using the device during a field outing or meeting, Livescribe is the digital native's way of keeping on top of academic notes.
2. Digital textbooks
As the tablet and the e-reader become increasingly popular mainstream student technologies, so too do digital textbooks. And with the digital versions being remarkably easy to use, streamlined and lightweight, when given the choice between lugging around the complete works of Shakespeare or having them all available on one e-reader, it's easy to see why the popularity of digital textbooks is growing.
Not only do digital textbooks weigh markedly less than even one printed textbook, there's also the added bonus that digital textbooks cost around 40% less than printed textbooks; combining technology and education doesn't always have to be expensive. Chegg is a useful student resource for finding cheaper digital textbooks, as well as providing homework help and internship opportunities.
At some universities, this student technology has been used to digitalize course materials, allowing students to interact more with their reading and activities through class collaboration and customization.
3. Tech backpacks
If you've ever been out and about on campus with a bag full of technology that's all run out of juice, then you might be interested in hearing about tech backpacks – bags that not only store all your student technology tidily and safely, but also allow you to charge your devices without the need for a plug socket. Running off solar energy panels on the front of the bag, tech backpacks offered by companies such as Voltaic and Eclipse are brilliant for those who can't live long without access to technology. And that's not all; by using solar power, tech backpacks are often environmentally friendly too!
4. Smart lights
Depending on how much time you spend inside your flat or house as a student, and how much the revision you do depends on good lighting, you might like to get your hands on a smart light. Smart light functions vary depending on the manufacturer but one example, the AwoX StriimLight, is a smart light that plugs into a socket like a normal bulb and streams music directly from a mobile device or computer via Bluetooth to play through the light's very own speakers. This acts as the perfect student technology to use at a house party or gathering (saving your laptop and speakers from inevitable spillages), or as a revision aid which allows for soft lighting and background music. And, for those of you who love a bit of ambience when studying, LIFX smart lights feature a full spectrum of changeable colors that can be changed with the touch of a button to align with your revision mood.
5. Virtual keyboards
Keyboards you can fold up and take with you have been around long enough for us to realize how handy they are for hooking up to mobile devices for typing on the go. But there's a newer, better innovation being bought to market… the virtual keyboard. Yeah, it's happened, and it is as good as it sounds. A virtual keyboard, such as the Cube Laser Virtual Keyboard, utilizes laser technology and functions as a wireless device that you can connect to any mobile or tablet via Bluetooth. The keyboard device itself, little larger than a Tic Tac box, stands on your desk and once turned on, issues a red laser QWERTY keyboard for you to type on to directly. Your text is synced onto your device in real time.
If you've ever wanted to feel like one of those futuristic spy-tech operatives in the James Bond movies, the virtual keyboard is for you.
6. Noise-cancelling headphones
While noise-cancelling headphones are great for those who enjoy listening to their music much too loud on public transport, they also act as a great way to maintain study concentration by lessening the distractions of the outside world. Whether you're revising to the quiet sounds of the ocean in the library or letting off steam with a head-banging session to Metallica at 3am, noise-cancelling headphones are a brilliant way to ensure no one will ever again be distracted by stuff they don't want to be distracted by.
Perfect for revision and ignoring the guy eating crisps in the library's quiet zone.
7. Encrypted flash drives
To make absolutely sure no one steals your dissertation, invest in an encrypted flash drive/USB which requires a PIN in order to access any work stored on it. This may not solve the problem of constantly leaving your flash drive connected to the library computers, but it will hopefully stop anyone from thieving the device for themselves, as without the user-defined PIN the information held on the drive is rendered useless. One such drive is the LOK-IT Secure Flash Drive which features a PIN number display.
Other useful student technology