Guest post: Judy Hofmeyr
Whether you're being interviewed for a graduate job or a place on a university course, what you wear to an interview can make all the difference.
Here we are: the interview room. You, the unnerved interviewee, have only a few tools at your disposal to communicate your eligibility. It's a highly competitive environment where you are put under a magnifying glass – scrutinized for the smallest snags or successes in how you present yourself.
You are armed with your CV and references, some vocational knowledge and of course your personality. But I'll let you in on a little something: your choice of interview clothes is your secret weapon.
The power of the first impression
The popular saying "first impressions last a lifetime" may be a bit overdramatic, but there is some merit in the fact that first impressions carry immense value. An interview for a job or university course can be seen as an extended first impression. Studies have shown that an interviewer decides if someone is suited for the position in question within the first 10 seconds of engaging with them. Whether you have a love for clothes or not – how you dress is critical in the interview room.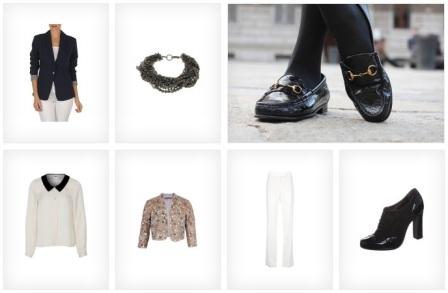 The halo effect: Why attention to detail is important
The smallest detail can have a massive impact on how your suitability is perceived as a candidate for a position or opportunity. Optimizing your appearance can lead to a "halo effect" during the interview. A good rule of thumb is: everything they see can and may be held against you.
So, which details are important? Make sure your interview clothes are clean and ironed. Cat hair, a loose thread, or a grease stain sends a message (however subliminal) of sloppiness. Make sure your hair is clean and neat, and that your make-up isn't smudged or running. Add a subtle touch of perfume before leaving for the interview. This goes for the guys too: pay attention to everything from your hair style to your nails to the buttons on your shirt.
Interview clothes dos and don'ts
When deciding on interview clothes, conservative is king. It shows that you are polite, and that you've made an effort. Avoid sheer blouses or anything where your underwear is remotely visible. Avoid showing cleavage or too much leg. Don't wear something that can be described as "sexy", "ill-fitted", "too casual" or "too tight".
Winning interview clothes items are blazers, button shirts, trouser suits, blouses, chinos, leather shoes, and skirts paired with some stockings. For the girls, subtle jewelry and barely there make-up are great complements to the outfit. Stick to colors like navy, black, white, light blue, beige and tan. If you want to add some elements of your personal style, make sure they're subtle and simple. Your outfit shouldn't necessarily restrict your fashion sense. There are, for instance, many stunning blazers out there that can be styled in a range of different ways. 
Dress for the job you want
Dress as if you're already part of the company or program. Read up on the type of organization you're interviewing for – if it's a formal corporate office environment, be sure to look the part; but if it's an internet start-up company, go with something a little more casual. For an interview with a fashion company, add one or two pieces of jewelry that will stand out, or pick a stunning pair of shoes to subtly reflect your fashion sense.
In the end, you have to dress for the job you want. Think carefully about what that means when choosing what to wear to an interview. Prepare your outfit some time before the big day. And be confident! If you're looking and feeling great, make sure it's reflected in your posture and demeanor. Get out there, and knock their socks off!
Judy Hofmeyr is passionate about two things: Fashion and the Digital World. She currently works for online fashion community STYLIGHT. What does she like most about her job? Attending Fashion Weeks, writing about the newest trends, talking shop with fashion bloggers and exploring the nooks and crannies of her current hometown, Munich.
Want more content like this? Register for free site membership to get regular updates and your own personal content feed.