Want to study in Earth's largest and most populous continent, Asia? Whether you're a student from 'the western world' looking for somewhere different, or from an Asian country yourself, the region offers something for everyone. With so many possibilities, you may be wondering which study destination is the right one for you. To celebrate the launch of the latest QS University Rankings: Asia, here are eight possible countries you should consider. Each of the following options not only boasts a number of prestigious universities in the 2016 edition of the Asian rankings, but also offers a unique and memorable study abroad experience. 15 Asian locations also feature in the top 50 of the new QS Higher Education System Strength Rankings, which showcases the strongest higher education systems in the world. Of these, China, South Korea and Japan are all in the top 10.
Kicking off our journey in Southeast Asia, Malaysia is a good option for students looking to immerse themselves in an array of cultures and settings. Malaysia is becoming a higher education hub, with its system ranked 27th in the world. It's also currently in the process of expanding its higher education strategy, which involves welcoming international branch campuses of well-respected overseas universities such as the UK's University of Nottingham (often with far lower tuition fees at the branch campus than you would have paid at the main branch). International students are attracted to Malaysia's exciting cities, fantastic natural beauty and scenery, and low costs both in terms of tuition fees and living expenses. In fact, capital city Kuala Lumpur was ranked the most affordable student city in the QS Best Student Cities 2016. Malaysia boasts 20 representatives in the QS University Rankings: Asia 2016, five of which feature in the top 100 – of these, Universiti Malaya is the highest ranked at 27th.
'Asian Tiger' Taiwan is ideal for students interested in technology and innovation. It's famed for its world-leading tech-industry, with many universities located close to the country's answer to the US's Silicon Valley, Hsinchu Science Park. Overall, Taiwan has a strong higher education system (ranked 17th in the QS Higher Education System Strength Rankings), as well as a lively and varied culture which mixes both the traditional and modern, with influences from mainland China evident in its architecture, cuisine and of course the official language. An increasing number of overseas students are choosing to study in Taiwan, which like Malaysia is quite affordable in terms of both tuition fees and living costs. Taiwan has 34 entrants in the latest Asian rankings, with five in the top 50. Its highest ranked institution is National Taiwan University (NTU) in 21st place.
The next in our list of best places to study abroad in Asia is Indonesia, which is home to the largest economy in Southeast Asia, and the world's fourth-largest population. Indonesia is incredibly diverse, with hundreds of individual ethnic groups, languages and cultures mixed in to a friendly and tolerant nation. Overall, Indonesia is a great choice for students looking to broaden their horizons. Higher education in Indonesia has grown significantly since the country gained independence in 1945, and the country is currently hosting around 6,000 international students, many of whom hail from neighboring Malaysia. Indonesia is another inexpensive study abroad destination, with tuition fees as low as US$3,000 a year for some subjects. 11 Indonesian universities rank in the top 350 in the latest Asian rankings, with Universitas Indonesia (University of Indonesia/UI) the highest ranked at 67th.
China is one of the world's most popular non-Anglophone study destinations, with 377,000 international students enrolled in 2014. A huge contender in trade, tourism and education, China has one of the largest and strongest higher education systems in the world, positioned 8th in the system strength rankings. As one of the largest countries in the world, with a 5,000-year history, China also offers a plethora of tourist destinations and both ancient and modern culture to explore outside of your studies. Both capital city Beijing and Shanghai were ranked among the world's best student cities in 2016, home to some of Asia's most respected universities. A total of 84 Chinese universities are featured in the Asian rankings, with Tsinghua University leading the way for China at 5th place (up from 11 last year).
The small, densely populated city-state of Singapore is thriving as a center of excellence in higher education, with National University of Singapore (NUS) ranked 1st in the Asian rankings, while Nanyang Technological University (NTU) climbs to 3rd this year. Singapore itself has a reputation as a world leader in research and innovation, and enjoys economic prosperity, low levels of crime and unemployment, and a strong corporate reputation – which means graduates of the state are highly sought-after by employers. Singapore is well known as a melting pot of cultures, languages and religions, with a mixed Chinese, Malaysian and Indian population each adding influences to the city's unique identity. The nation's core principles are of meritocracy, multiculturalism and secularism (religious freedom), and Singapore's higher education system was ranked 21st in the system strength rankings this year.
The next in our list of best places to study abroad is Japan, ranked 10th in the QS Higher Education System Strength Rankings. Recent years have seen the country take steps to attract more international students, increasing the number of English-taught programs and making it easier to apply. Like Singapore, Japan's rich cultural heritage mixes the old and new, with international students unlikely to be bored, particularly in megacities such as Tokyo, which was ranked 3rd in the QS Best Student Cities 2016. A great study destination for both tech-lovers and foodies, Japan is also one of the safest countries you could study abroad in, and although its living costs are higher than elsewhere in Asia, tuition fees are still far lower than in other popular study destinations. Japan's highest-ranked university in the Asian rankings is the University of Tokyo at 13th, and 72 more Japanese universities feature in the top 350 in Asia.
A leading Asian powerhouse in education, technology and tourism, South Korea is another 'Asian Tiger', full of diverse culture, ambition and independence. Boasting one of the largest economies in the region, South Korea has invested strongly in research and education. The country's higher education system was placed 9th in the system strength rankings, are South Korean universities are considered some of the most prestigious in Asia. The bustling and vibrant capital, Seoul, was ranked 10th in the Best Student Cities 2016, but nature-lovers will also be able to enjoy the country's mountain peaks, natural parks and dense forests. 54 South Korean universities feature in the top 350 of the Asian rankings this year, with KAIST – Korea Advanced Institute of Science & Technology, located in the technological center of Daejeon, the highest ranked at 6th.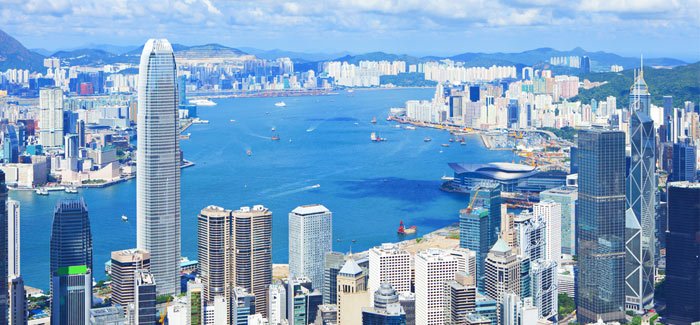 Heading to Hong Kong for the last of our list of best places to study abroad in Asia, this autonomous territory of China has become celebrated for its fusion of Eastern and Western culture, as well as being a major world hub for commerce, finance, trade and logistics. Hong Kong is an attractive option for many international students, with a range of reputed universities, use of English in both everyday life and education, easy access to mainland China, and a multicultural and forward-thinking society. With a higher education system which has been ranked 20th in the world, Hong Kong is another one of the four 'Asian Tigers', being one of the world's most significant financial centers. Hong Kong was ranked 8th in the Best Student Cities index, and was also the 21st safest city in 2015 according to Numbeo. Of the seven universities in Hong Kong which feature in the Asian rankings, four are in the top 10, including University of Hong Kong (HKU) at 2nd and Hong Kong University of Science and Technology (HKUST) at 4th.