As Scotland's largest city, Glasgow is home to no shortage of things to do in your spare time. However, sometimes it's great to get out of the city for a couple of days and bask in the beauty of the countryside, giving yourself a breath of fresh air and a break from the madness.
Whether it's a spa weekend at Cameron House on the bonny banks of Loch Lomond or a camping trip in Fort William, there are some amazing things to do in the areas surrounding Glasgow. If you're ready to be left in awe of the stunning nature only a short train journey away from your doorstep, pack a bag and get ready to explore.
While a few of the more secluded spots may only be accessible by car, public transport (whether it be train, bus or ferry) can get you to many desirable destinations. Always plan your mode of transport in advance to avoid getting caught out on the day.
Loch Lomond & the Trossachs National Park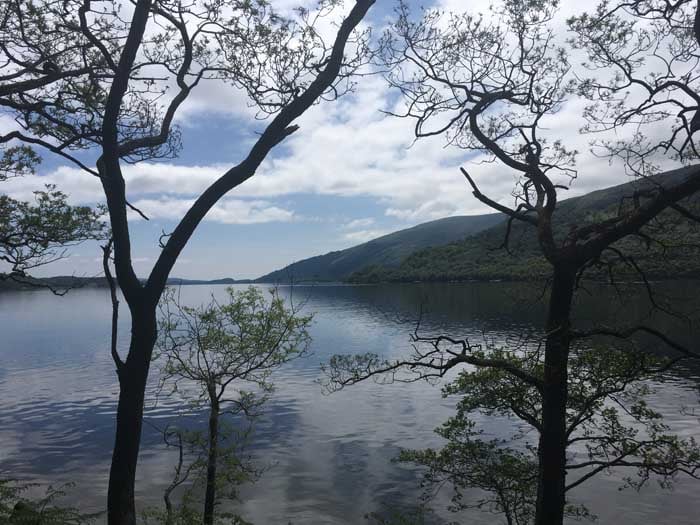 This national park is home to Loch Lomond, one of Great Britain's largest lakes, and it's found just 23 km northwest of Glasgow. The train, running from Glasgow Queen Street train station to Balloch, takes just under an hour making this the perfect day trip on a sunny weekend.
Balloch itself is a small town which sits right on Loch Lomond's shores. It's home to quaint cafes, an aquarium, a tree-top high ropes and zipline course, while it's also possible to rent kayaks or pedalos so you can float out onto the calm waters of the loch. Most importantly, you're never going to be too far from an ice cream stand. Stroll through the grounds of Balloch Castle and Country Park and, if it's warm enough, go for a paddle in the loch itself.
For those of you who do have a car, Balmaha is another town located slightly further along the banks of the loch. Nestled at the base of Conic Hill, it offers access to a steep but rewarding walk up to the summit. Here, hikers can appreciate views of Loch Lomond in all its glory, making the trek a worthwhile venture. Finish off your day with a visit to one of the cafes in the town, serving cups of tea and delicious cakes.
Those who fancy a bigger challenge could drive further up the eastern bank of Loch Lomond to conquer Ben Lomond. Standing at 974 metres (3,196 feet), this mountain is classed as a Munro and is the highest of the peaks surrounding the loch. Avid hillwalkers should allow around six hours in order to give themselves time to appreciate the impressive views of the stunning landscape the summit provides.
No matter where you go within this national park, you can be assured you'll find excellent camping spots, rewarding hiking trails and fantastic scenery, making this corner of Scotland the perfect getaway for those wishing to escape the bustle of the city.
Cameron House
If your ideal weekend away includes a stay at a luxury hotel and spa, Cameron House is your dream destination. Also located at Loch Lomond, this hotel is one of the best locations for a short, pampered trip out of the city.
You can enjoy the natural beauty of Scotland's countryside with the option to spend sunny mornings on the greens of Cameron House Golf Course and rainy afternoons in the hotel's spa. The location means guests can still enjoy the relative peace and tranquillity a trip to Loch Lomond has to offer. Currently undergoing renovations, the hotel is set to open its doors again in early 2020.
West Highland Way
Much of Scotland's beauty can only be truly comprehended if you immerse yourself totally in the landscape and the nation has many long distance walking trails which provide the perfect opportunity to do so.
The West Highland Way is a 154km walk which spans from Milngavie (30 minute train journey from Glasgow City Center) to Fort William, crossing the boundary separating the lowlands and highlands. Walkers can endeavor to undertake the trail in between five and seven days. If you only have a couple of days, why not try some of the shorter stretches?
The walk doesn't disappoint: from the stretch between Balmaha and Inverarnan which follows Loch Lomond all the way up its eastern bank, to the view from the highest point at the top of the Devil's Staircase, hikers can be sure they will see the best Scotland has to offer. Rolling fields, dramatic valleys, and expansive lochs will give those who do complete the West Highland Way a unique glimpse into Scotland's magical charm.
Fort William
Not only is Fort William the finishing point of the West Highland Way, it's also a popular destination for those wishing to explore the Scottish Highlands. Glen Coe is also a short drive to the south and is home to a popular ski resort used by many in Glasgow due to its proximity.
The town of Fort William is roughly a three-hour bus or train journey from Glasgow, making it fairly easily accessible from the city. Its rich cultural history means it's the perfect place for those interested in learning more about Scotland's origins and background. Situated on the banks of Loch Linnhe, there are an abundance of short leisurely walks to be taken which are perfect for an evening wander.
If you're a Harry Potter fan, the iconic Glenfinnan viaduct will be familiar as it featured prominently in the flying car scene in the film adaptation of Harry Potter and the Chamber of Secrets. It's located just half-an-hour drive west from Fort William.
Argyll & Bute
Argyll & Bute are a collection of islands just off the western coast of Scotland, most easily accessible by the ferry terminals in Gourock or Wemyss Bay.They offer plenty of potential for fun weekend trips, whether it's a tour of Inveraray Castle, a hiking holiday in the Argyll mountains, a camping trip in Oban or a whisky distillery tour in the region of Cambeltown. Accommodation is also plentiful, ranging from wild campsites to cosy firelit B&Bs.
Spectacular coastlines and historic landmarks also make this a fantastic tourist destination for those wishing to absorb all they can about Scotland.