There are many reasons to study in California: world-class universities with a welcoming attitude towards international students, a sun-kissed climate, world-famous beaches, exciting cities, a high standard of living, an assortment of cultural riches and an undisputed position at the cutting edge of modern technology.
The home of Los Angeles – the entertainment capital of the world and the US's second-largest city by population – California is known as the 'golden state' due to its history in gold mining and its characteristic golden-brown hills in the summer. Nowadays, this golden nickname also seems an apt reference to the state's renowned glamour; from 2003 to 2011 it was even run by a movie star – Arnold Schwarzenegger ('the Governator'), famous for his roles in action films such as The Terminator and Predator. 
California is also famed for its prestigious universities, which include the world-famous Stanford University, the California Institute of Technology (Caltech), the University of California, Berkeley, and University of California, Los Angeles (UCLA), amongst many more.
If you have your sights set on studying in the golden state, scroll down for more information about top universities in California, student life, and some of our favorite facts about California.
Universities in California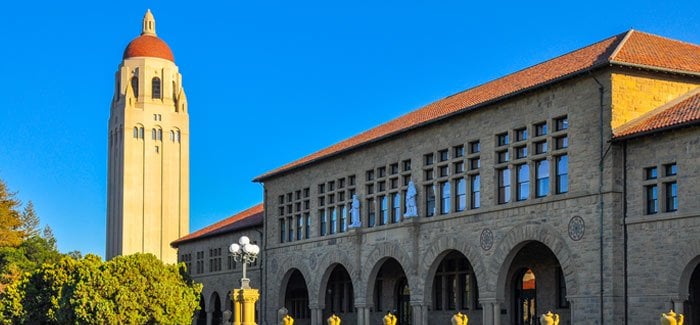 As you might expect, given the state's impressive track record in innovation, universities in California include many of the most prestigious institutions in the US. In the QS World University Rankings® 2016-2017, California's Stanford University is ranked second in both the world and the US, while the California Institute of Technology (Caltech) is ranked 5th in the world. 
Stanford is located in the northwest of the Silicon Valley region, while Caltech is in Pasadena, close to Los Angeles. Both are the top private research universities in California – but another two of the top universities in California are part of the state's public university system. The public University of California system has 10 campuses, and its two main universities, the University of California, Berkeley (known as UCS, UC Berkeley or just Berkeley, and widely known as 'Cal') and University of California, Los Angeles (UCLA) rank at 28th and 31st in the world respectively.
Other top universities in California include
Life in California

As well as the film industry centered around Hollywood, California is also a major power when it comes to music, having produced artists including *deep breath*: The Beach Boys, The Byrds, Guns and Roses, Red Hot Chili Peppers, 2Pac, Dr Dre, Snoop Dogg, Carlos Santana, Frank Zappa, Mötley Crüe, Thirty Seconds to Mars and Iron Butterfly, along with a number of established orchestras.
Alongside its central position in contemporary pop culture, California is also a significant contributor in the agricultural, aerospace, biotechnology and manufacturing sectors, and is famously home to 'Silicon Valley' – one of the world's leading centers of high-tech innovation.
The state's diverse spread of talents is matched by the diversity of its cultural and ethnic composition. According to the most recent US Census data (2010), approximately 38% of California residents class themselves as Hispanic or Latino and 13% as Asian. Just over 6% are black, and almost 5% have two or more races. California is considered one of the most liberal US states, with a tolerant attitude towards LGBT policies, and was one of the first states to legalize same-sex marriage.
In addition to vibrant metropolises like Los Angeles, San Diego and San Francisco (all three of which rank among the world's top 75 cities for students), California also has some of the US's most stunning and diverse natural scenery, ranging from blissful beaches to snow-capped mountains. It's no wonder, then, that California also has a reputation for its environmentalism and conservation efforts, and some of the strongest environmental laws in the US. 
Indeed, California's numerous national parks, including Yosemite National Park and Sequoia National Park (the native home of the giant sequoia trees – the largest living organisms on Earth), alone would be reason enough to visit. The state's stunning natural attractions include imposing cliffs, clear streams and waterfalls, groves of giant redwood (sequoia) trees, an inland salt lake, two large lakes (Lake Tahoe and Clear Lake) and a diverse range of habitats and wildlife.
In short, whatever your passion – be it technology, music, world cultures, conservation, acting, photography or computer programming – if you study in California you'll find an environment conducive to all forms of discovery, exploration, adventure and entrepreneurship.
Facts about California 
Located on the west coast of the US; borders with Oregon to the north, Nevada and Arizona to the east, Mexico to the south, and the Pacific Ocean to the west.
State capital is Sacramento and largest city is Los Angeles.
Total population is around 39 million, the largest population of any single US state and approximately 12% of all US residents.
State motto is 'Eureka!' (an exclamation of discovery, as in 'I have found it!').
About 45% of California's total surface area is covered by forests.
Of the thousands of companies headquartered in Silicon Valley, those in the Fortune 1000 include Apple Inc., Adobe, eBay, Google, Facebook, Hewlett-Packard, Intel, Netflix and Yahoo!.
California ultivates at least half of the fresh fruit produced in the US.
It has the largest trees (giant sequoia), the tallest trees (coast or California redwood) and the oldest trees (bristlecone pine) in the world.
Per capita energy use is one of the lowest of any US state. 
Fastest growing solar energy market in the US – with several solar power plants and the capacity for 1.2 gigawatts, the equivalent of two large conventional power plants.
Several dams across the state provide hydro-electric power.
Contains both the highest and lowest points in the contiguous United States.
Known for its car culture, California's well-known bridge Golden Gate Bridge was once the longest suspension bridge main span in the world.
Famous actors and actresses born in California include Jennifer Aniston, Cameron Diaz, Leonardo DiCaprio, Dustin Hoffman, Tom Hanks, Clint Eastwood and Gwyneth Paltrow.
To conclude, choose to study in California, and you really will be spoilt for choice in all domains – from great universities, to activity-packed cities, and diverse post-graduation employment prospects.
Want more content like this? Register for free site membership to get regular updates and your own personal content feed.