Home to the US federal government, Washington DC is the perfect place to study if you're interested in politics and US history. Packed full of grandiose monuments, buzzing with political debate, and with a great cultural scene to boot, the federal district also offers some of the best universities in the US. Read on for an overview of the top universities in Washington DC, plus information about local life as a student.
Top universities in Washington DC
Four universities in Washington DC are featured in the QS World University Rankings® 2015/16. These are Georgetown University, George Washington University, American University and Howard University.
Georgetown University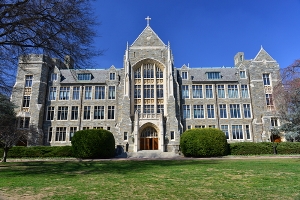 Older than the district itself, Georgetown University is the highest ranked university in Washington DC. Ranked joint 213th in the world and 50th in the US, Georgetown University is located in the historic neighborhood of Georgetown, originally belonging to Maryland, but later becoming part of the capital district. The school itself is located just west of the city center and north of the vast Potomac River bordered by the narrow Foundry Branch Valley Park.
With a student body of just over 17,800, Georgetown University is the oldest Jesuit and Catholic university in the US, although it has always been governed independently of any religious authorities. The school has always been research-focused and is home to the Center on Education and the Workforce and the Vincent Lombardi Cancer Center, where researchers developed the HPV vaccine for cervical cancer. The university currently has a research fund of $172.7 million.
Current faculty members of Georgetown University include former US Secretary of State Madeline Albright and Michael Dyson, an esteemed academic and writer on black culture and hip hop. Notable alumni include former US president Bill Clinton, Pulitzer Prize-winning journalist Mary Jordan and President of the European Commission José Manuel Barroso. This Washington DC university is also notable as the home of the world's largest student-run non-profit charitable organization, the Students of Georgetown Inc.
George Washington University 
Another private research university, George Washington University was named after the nation's first president and established way back in 1821. Ranked joint 327th in the world and joint 65th in the US, George Washington University is made up of 10 schools including its Business School, Law School and the School of International Affairs. The university's main campus is located in the neighborhood of Foggy Bottom. This is an impressively central location, just minutes from the White House to the east, the Lincoln Memorial to the south and the Potomac River to the west.
The school's student population of over 21,400 is known for its progressive political activity, along with involvement in 300 registered student organizations, a large number of which are sports-based.
American University 
American University is a private university with a liberal arts curriculum, which emphasizes strong programs in public policy and public affairs, and international law and human rights, thanks in part to its DC location. As of 2015/16, it's ranked joint 373rd in the world and 75th in the US. And, despite hot competition for this title, American University has also been rated the "most politically active school" in the nation by The Princeton Review's survey of students, three times between 2008 and 2012.
Internationally diverse, American University has a population of around 10,600 students hailing from 137 different countries, who can take advantage of the school's focus on international understanding reflected in faculty research and program offerings. The school also frequently receives visits from world leaders, making it another attractive option for those wishing to study at a university in Washington DC.
Located less than five miles northwest of the city center and Washington DC's major attractions, American University boasts an 84 acre campus, which is home to the national arboretum and a botanical public garden.
Howard University 
Fifth in our list of top universities in Washington DC, Howard University again claims a rich history, having been established in 1867 as a nonsectarian school open to both sexes and all races. A 'historically black' school, Howard University today is a milieu of inclusivity and diversity, helped by a strong focus on both local and national communities.
This Washington DC university, located in northwest DC on 256 acres, is comprised of a number of schools including faculties of business, dentistry, pharmacy, communications, education, arts and sciences and divinity. In the latest edition of the QS World University Rankings, Howard University is ranked 651-700 in the world and within the top 125 in the US. It's also classified as a Tier 1 research university by the Carnegie Foundation.
Student life in Washington DC
Just 68.3 square miles in area, Washington DC arguably boasts more sites and artifacts of cultural, historical and political importance per square mile than any state. Not only is the district home to the White House and 177 foreign embassies, it also offers stunning architecture in the form of the State Capitol and countless government buildings, along with a strong footing in the arts evidenced by institutions such as the Kennedy Center, the National Gallery of Art and the Folger Shakespeare Library. There are also 19 universities in Washington DC, including the four prestigious institutions highlighted above. 
Washington DC's National Mall, the front garden of the State Capitol, is a large, open park area shadowed by many of the nation's famous memorials including the iconic Lincoln and Jefferson memorials and the Washington monument. The Mall receives approximately 24 million visitors a year and is the location for political protests and rallies of all types, as well as festivals and cultural events – making for an eclectic mix of activities if you decide to attend a Washington DC university.
History is also a big deal in Washington DC and the vast majority of the Smithsonian Institution's 19 museums, galleries and parks – the world's largest cluster of museum and research centers, holding over 135 million artifacts in total – are located within the district.
The city is also well-known for its jazz scene, but if jazz music isn't your thing, no problem: the district offers a vibrant, student-centric nightlife as well as numerous bars and restaurants where tourists, students, government officials and DC's large working-class population rub shoulders.
DC residents are renowned for their political vocalism, and if you choose to study here, you should expect to debate and defend your own political leanings with classmates and locals alike. This means plenty of scope for lively intellectual conversations and an increased awareness of both every-day and big-issue politics.
Facts about Washington DC 
The Washington Metropolitan Area, of which the District is a part, has a population of over six million, making it the seventh-largest metropolitan area in the US.
The name Columbia comes from Christopher Columbus, the Genovese explorer who established the first non-native settlement in the Americas, while Washington, of course, comes from the US's first president, George Washington.
The Library of Congress, which houses the Declaration of Independence, is the largest library complex in the world, with more than 34.5 million books and over 151 million items in total.
29% of jobs in Washington DC are connected to the federal government.
Tourism is Washington DC's second-largest industry.
As it is not a US state, Washington DC has no voting representation in the Congress. Instead residents elect a non-voting delegate to the House of Representatives, currently Eleanor Holmes Norton, who may sit on committees, participate in debates and introduce legislation, but cannot vote on the House floor. The District has no official representation in the US Senate.
The city was designed by Major Pierre Charles L'Enfant, and was the first American city to be planned from scratch, in 1791.
The city's flag (and the national flag) is based on George Washington's family coat of arms.
Famous Washingtonians include comedian Louis CK, Bill Nye 'the science guy', former director of the FBI J. Edgar Hoover, actors Samuel L. Jackson and Natalie Portman, businesswoman and COO of Facebook Sheryl Sandberg, musician Duke Ellington, and former vice-president and environmental activist Al Gore.
This article was originally published in April 2014. It was updated in February 2016.