Sponsored by University of Copenhagen
Three words that can be used to describe the city of Copenhagen are healthy, happy and clean. This cycle-friendly and positively green capital city has so much to offer its students. With five bicycles per car, locally-sourced food on every street corner and four harbor baths, it's no wonder that Copenhagen is one of the best performing cities in the Healthy Cities initiative of the World Health Organization.
The city of Copenhagen is also ranked 45th in the QS Best Student Cities 2018. So, it should not come as a surprise either that over 5,000 students from across the globe have moved to the Danish capital to study and experience all it has to offer. 
Reason 1: Copenhagen as a bike city
It's time to hop on your bike and travel like the locals, as Copenhagen takes the crown from Amsterdam as the world's leading bike city.
Cycling is considered a way of life in the Danish capital with more than half of Copenhageners dedicating their lives to commuting and traveling around the city on two wheels rather than four. It's cheap, eco-friendly and, of course, very healthy.
Cycle superhighways in Copenhagen also make it easy and safe to travel by bicycle. In the heart of the city, Dronning Louises Bro is a bridge that's very popular amongst cyclists and pedestrians, as it was narrowed to reduce car traffic, and increase bicycle traffic, instead.
As well as learning about your degree, you'll also learn about Copenhagen's bicycle rush hours, as you'll never be more than a 30-minute bicycle ride from any of the university's four campuses, wherever you live in the city.
Reason 2: New Nordic Cuisine
Credit: Knud Winckelmann (Wikimedia Commons)
Dine like a Dane and follow your nose to sample New Nordic Cuisine which puts traditional Scandinavian food at the forefront of its recipes. It's sustainable, healthy and, most importantly, very delicious.
Take a trip to Torvehallerne, to really get a taste for all things seasonal, organic and authentic on a more student-friendly budget. Torvehallerne boasts over 60 food stalls, where you can try almost anything. From fresh fish, to gourmet chocolates to exotic spices and an abundance of street food, you'll never be short of choices.
Reason 3: Copenhagen Harbor Baths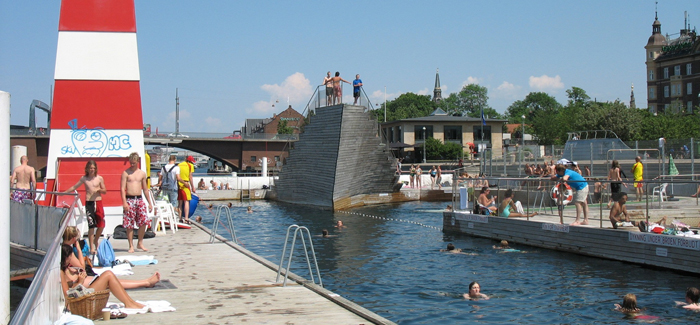 Credit: Milgrammer (Wikimedia Commons)
Time to take a dip in one of Copenhagen's Harbor Baths. An incredible urban take on natural swimming baths, the Copenhagen Harbor Baths are one of the trendiest hotspots in the city.
Islands Brygge is one of Copenhagen's most iconic landmarks where you can swim alongside the city's skyline. Copencabana, Svanemølle Beach and Sluseholmen are also popular Harbor Baths. Open from the beginning of June to the end of September, come rain or shine, with free admission, it's easy to see why the Harbor Baths are a huge hit with everyone who comes to Copenhagen.  
Reason 4: Copenhagen's 'clean city'
Credit: Jakob Dall
Within the last 10 years Copenhagen has heavily invested in a number of environmentally-friendly policies. Much of the city's public transport runs on electricity or hydrogen, and the majority of buses are fitted with technology that can remove 99 percent of chemicals and toxins from their exhausts. 
The University of Copenhagen is also following suit, and is dedicated to green living, as it works towards becoming one of the world's greenest campuses. Green Campus 2020 is a sustainable strategy, which the university works towards to achieve ambitious goals in reducing energy consumption, CO2 emissions and waste, whilst also working to increase recycling rates.
Reason 5: Healthy brain
Credit: University of Copenhagen
The University of Copenhagen offers its students the opportunity to join one of their UCPH International Summer programs which run throughout the months of July and August. It's a good incentive if you want to keep your mind active throughout the summer months and further your academic career and experience.
With over 50 courses available in areas of interest including society, politics and economics to biology, chemistry and nature, there should be something for everyone. All courses are taught in English, and the majority of courses are for those studying at a master's level. There are, however, a number of courses for those studying at bachelors' level as well.
Reason 6: Culture as a healthy activity
Credit: University of Copenhagen
Sometimes taking some time out for yourself and experiencing a new culture is just as healthy for your mind as cycling is healthy for your body.
Students at the University of Copenhagen won't need to travel too far to experience authentic Danish culture. Every July, the city comes alive with the sound of jazz around every street corner as it plays host to the Copenhagen Jazz Festival. It attracts more than 250,000 people, making it one of the biggest music events in Europe.
Or, if you prefer the peace and quiet that comes with exploring a new culture, take in the chilled atmosphere of the Botanical Garden, one of Copenhagen's many green city spaces. The Botanical Garden is a research-based garden in collaboration with University of Copenhagen, and is famous for its historical glasshouses which date back to 1874, and recently opened Butterfly House. Open all year round, the garden is free to explore, but students can get a discounted entrance fee to visit the glasshouse for 40DKK (~US$6).