The recently launched QS World University Rankings: Masters in Finance Rankings 2019 ranks the top schools for the subject based on five indicators: employability, alumni outcomes, value for money, thought leadership, and diversity.
In the world of business, thorough financial knowledge is highly critical to success, and this year sees seven European institutions rank among the top 10 schools for finance (four of which are in the UK), while the remaining three are based in the US.
Due to the schools' high level of prestige in the academic and social departments, many of them have very low acceptance rates and rather complicated admissions processes. Read on to find out more about your likelihood to be accepted to study at the top 10 schools for finance.
The world's top 10 schools for marketing in 2019

Based on the QS Masters in Finance Rankings

2019 rank

Institution

Course

Location

1

MSc in Finance

London, UK

2

Master in International Finance

Paris, France

3

Master of Finance

Cambridge (MA), US

=4

MSc Finance

London, UK

=4

MSc Financial Economics

Oxford, UK

6

Master of Finance

Cambridge, UK

7

MSc in Finance

Barcelona, Spain

8

Master of Financial Engineering

Berkeley (CA), US

9

Master in Finance

Paris; Singapore

10

Master of Financial Engineering

Los Angeles (CA), US
 1. London Business School
Renowned for its highly respected reputation as one of the world's top schools for business studies, the London Business School ranks number one in the master's of finance rankings this year.
According to the school's website, the full-time MSc in Finance class of 2017 was made up of 106 students in total, while the part-time class consisted of just 67. Admission to the school is competitive, and applicants must have a minimum of two years' relevant financial experience, an undergraduate degree (or a strong career history and/or professional qualifications), as well as an international outlook and intercultural communication skills.    
2. HEC Paris School of Management
Currently ranking second in the world for its Master in International Finance course, HEC Paris is a widely recognized business management school with the most sought-after degrees in business management.
With an overall acceptance rate of just eight percent (as of 2012), receiving admission to the school is undoubtedly extremely competitive. To even be considered for its master's in finance course (Business track), applicants must be fluent in English and must (at least) hold a second-class honors undergraduate or postgraduate degree from an international institution, including a history of prior training in the financial sector.       
3. MIT Sloan School of Management
MIT Sloan currently ranks third for its course in Master of Finance, a program which aims to lay out the essential basics of any career in the world of finance. The class profile for students entering the Master of Finance course of 2018 had a total of 62 students enrolled in the standard 12-month program, and 49 enrolled in the 18-month program.
Applicants from a variety of academic and professional backgrounds are encouraged to apply, but must have a range of strengths to make the chosen few, including excellent test scores, communication, leadership, teamwork, creativity, and work experience.  
=4. London School of Economics
A new entrant in the master's in finance rankings this year, the London School of Economics entered at joint fourth place (with Oxford Saïd Business School). Its MSc Finance course provides students with a broad and in-depth foundation in the field of finance, boasting an excellent reputation amongst employers within the sector.
The minimum entry requirement for this 10-month course is an upper second-class honors degree in any discipline, good quantitative skills (or GMAT for UK undergraduates), and GMAT or GER for all non-UK undergraduates.
The competitive nature of admissions to this course is shown in the class of 2017, when a mere 93 out of 1,679 applicants were enrolled.
=4. Oxford Saïd Business School
Oxford Saïd Business School ranks at joint fourth place in the master's in finance rankings this year. Its MSc Financial Economics course is an intellectually challenging but rewarding nine-month program, combining excellent academic training with real-world professional experiences.
Once entry requirements are met, you may complete and submit your online application (along with supporting documents) for 2019-2020 entry, by one of three chosen application deadlines. Shortlisted applicants will then be invited for an interview or provided with a direct offer, after which a final decision will be made.
If successful, you'll be required to pay a non-refundable deposit fee of £6,400 (US$8,420), due 30 days after your notification of acceptance.
6. Cambridge Judge Business School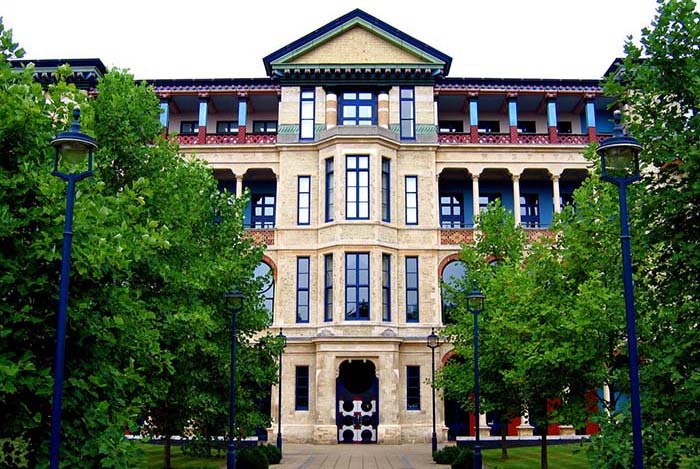 At sixth place, Cambridge Judge Business School is a new entrant in this year's master's in finance rankings. Its Master of Finance course aims to provide a unique learning experience by focusing on the core foundations as well as niche topics of both the theory and practice of finance.
As of 2015, the school has an overall acceptance rate of 21 percent, and to be considered for the Master of Finance course, applicants must at least have an upper second-class honors degree at undergraduate level (or the equivalent), a minimum of two years' graduate work experience in the finance sector, fluent proficiency in the English language, and maths and stats proficiency. 
7. ESADE Business School
Heading to Spain, ESADE Business School's MSc in Finance course earned it seventh place in the rankings this year. The course delivers an enriching combination of knowledge and technical skills to help prepare its students for the world's top recruiters in finance.
As is the case with many of the top international business schools, ESADE has quite a small applicant pool, and admissions across its wide range of courses are often very competitive.
For the MSc in Finance program, the admission process involves a series of stages and to be eligible, you must have an impressive academic background and have a high level of English proficiency.
8. UC Berkeley Haas School of Business
Ranked eighth place, UC Berkeley Haas School of Business is one of just three US business schools featured in the top 10 of the master's in finance rankings this year. Its Master of Financial Engineering course takes a year to complete and prepares its students for leading roles in the finance/fintech industry.
As is the case with most of the world's top institutions, admission to US Berkeley Haas is highly competitive. 79 students out of a total of 565 applicants are currently enrolled in the Master of Financial Engineering class, their average GRE/GMAT test scores bordering perfection.
Before applying, you must ensure you meet all the admissions criteria.   
9. ESSEC Business School
Up one place this year to rank ninth, the ESSEC Business School has campuses located in France, Singapore and Morocco.
The school's Master in Finance course is an intensive and enriching program delivering 21 core courses and 29 elective courses, to match its students' personal interests and professional ambitions.
An open-minded business outlook, flair for leadership and an excellent academic record make up some of the application requirements listed for this course. An undergraduate degree and/or a master's degree in engineering, science, mathematics, business or economics from a top university/school is also a must.
More about admissions for the Master in Finance course can be found here. 
10. UCLA Anderson School of Management
The UCLA Anderson School of Management ranks 10th this year for its Master of Financial Engineering course. The program aims to hone high-achieving students' mathematical modeling skills, computational expertise and quantitative skills in preparation for today's challenging financial markets.
Applicants to the course are expected to demonstrate high computational programming skills, have a strong quantitative background and should be able to provide evidence of experience using mathematical tools (such as MATLAB). They also need to show progress toward obtaining a CFA certificate, and must have excellent writing, speaking, and presentation ability in English. 
The application process can be found here, and all applications for the 2019/20 academic year must be submitted before the final deadline on April 30, 2019.
Want more content like this? Register for free site membership to get regular updates and your own personal content feed.