Whether you're uncovering government corruption or unmasking the latest love-rat celeb, the life of a journalist is never dull. Few careers are as romanticized or as unpredictable as the life of a Fleet Street journalist, chasing stories that will be read by millions of people over breakfast the following morning, so it's no surprise so many students express an interest in a career in journalism.
This high level of interest means journalism careers are also highly competitive. You need to always be on top of news, events and new technologies. A good leverage, if you aspire to become a journalist, is to hold a degree from a well-respected university.
Although journalism doesn't feature directly in the QS World University Rankings by Subject 2020, this year's subject rankings does include a ranking of the best universities for studying media and communications. If you're interested in studying journalism and want a degree which will help open doors to internships and graduate schemes, these are the top five universities in the UK to consider.
London School of Economics and Political Science (LSE)
London School of Economics and Political Science (LSE) is ranked first in the UK and third in the world for media and communication studies this year.
The institution's teaching in this field is focused at postgraduate level, with options including an MSc in Media and Communications, MSc/MA in Global Media and Communications, MSc in Media, Communication and Development, and MSc in Politics and Communication.
The courses are highly research-based, and LSE prides itself on being one of the leading research universities in the UK. The Department of Media and Communications says it strives to achieve a deeper understanding of "changes in the media and communication environment as these shape, and are shaped by, complex socio-technical, political-economic, cultural and historical developments."
Goldsmiths, University of London
The second London-based institution to feature in this list, Goldsmiths is ranked ninth in the world this year for media and communication studies.
As well as a bachelor's degree in media and communications, Goldsmiths also offers an undergraduate program in journalism. This can also be taken as a joint course with history, which allows you to draw upon the shared skills and methods between these two disciplines.
At postgraduate level, it's possible to specialize in radio, television and digital journalism as well as study a straight-forward MA in journalism. Charlie Cooper, a reporter for Politico, graduated from the journalism MA at Goldsmiths last year and praised the course for helping him in his career. He said: "You know you've been trained properly and have had the right values instilled in you so you can go out there and do a good job your way."
Cardiff University
Cardiff University is ranked third in the UK and 23rd in the world for media and communication studies. Located in the beautiful Welsh capital, the university offers another impressive selection of undergraduate and postgraduate courses in journalism.
You can get a bachelor's degree in Journalism and Communications, Media and Communications, Journalism, Media and English Literature or Journalism, Media and Sociology. At the higher level, MA/MSc journalism specializations include Broadcast, News, Magazine, International Journalism and Computational and Data Journalism.
The university itself is the only member of the Russell Group of research-led universities in the UK to be located in Wales and is a popular choice among international students.
King's College London (KCL)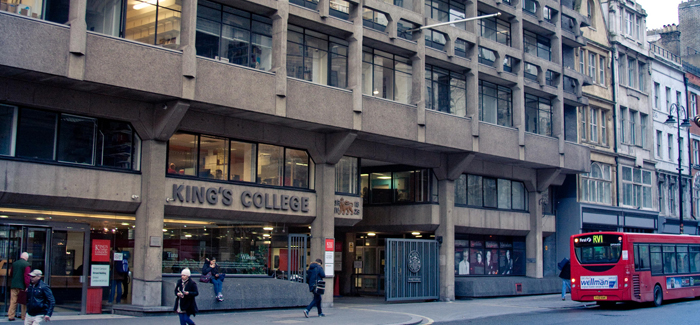 Ranked joint 24th in the world for media and communication studies, King's College London (KCL) is fourth on our list of top universities for preparing for a career in journalism.
KCL's Department of Culture, Media & Creative Industries was ranked the best in the UK in 2014 Research Excellence Framework and continues to be held in high regard. Courses like KCL's BA in Digital Culture offer a broader focus than other programs in this area, but it's possible to focus on areas of journalism within specific modules.
If your interests in journalism are less news-focused and more geared towards the arts and cultural heritage, the master's degree in cultural & creative industries may also be of interest.  
University of Leeds
The final university in our list is Leeds, which is ranked 39th in the world for media and communication studies this year. The BA in communication and media is a flexible degree which offers the opportunity to study political journalism, new/online media and public relations.
An undergraduate degree in journalism is also available from Leeds, which focuses on the theory and techniques required for working in radio, television and digital journalism. There's also a BA Journalism and Media degree, which it's possible to transfer to part-way through studying journalism, should you decide you want a broader knowledge base. As part of the journalism degree, you'll also complete a work placement.
KCL picture credit: poppet with a camera (Flickr)
This article was originally published in August 2014 and was updated in March 2018.