/sites/default/files/guides/lead-bg-images/Bulgaria.jpg
TOP
UNIVERSITIES
Destination Guides
Study in Bulgaria
A small but charming country located in the Balkan Peninsula, Bulgaria is full of attractions for both international students and tourists. If you want to study in Bulgaria, you'll find an impressive range of natural environments: from warm, sandy beaches to striking mountains and ski resorts – and it's also a relatively low-cost international study destination.
Established in the year 681, Bulgaria is one of the oldest European countries. Its rich history has left behind many historical sites, and plenty of stories and perspectives to explore. Between 1946 and 1989 it was a single-party communist state, but since then has been governed as a democratic republic. In 2007, it became a member state of the European Union, making it even easier to travel to and around the country.
Most of Bulgaria's international students come from neighboring nations Turkey, Greece and Macedonia, with large numbers also coming from Nigeria, Germany, Italy, Israel, UK, Ghana, South Africa and India, amongst others. International students are likely to be attracted by the country's well-developed higher education system, internationally recognized degrees, highly reasonable tuition fees and living costs, and the safe and friendly living environment.
Fast Facts
Situated in the Balkan Peninsula
Borders with Greece, Turkey, Macedonia, Serbia, Romania and the Black Sea
Capital city is Sofia
Population is 7.3 million
Official language is Bulgarian and official alphabet is Cyrillic
The Cyrillic script was developed during the 9th century
Official religion is Orthodox Christianity
Member state of the EU, NATO and the UN – and currently in the process of joining the Schengen Area
National currency is Bulgarian lev (BGN)
Founded as a national state in 681 AD
Unitary parliamentary republic
Part of the Ottoman Empire for five centuries until 1878
In 1946 the monarchy was abolished and Bulgaria became a communist state.
In 1989 the communist regime fell and Bulgaria became a democracy.
Almost 35% of the land consists of forests, where some of the oldest trees in the world grow.
Active member of CERN, with almost 200 participating scientists
Home to nine UNESCO World Heritage Sites
Until 1989, Bulgaria was the world's second-largest wine exporter.
The inventor of the first electronic digital computer, John Atanasoff, was of Bulgarian origin.
A Bulgarian folk song is part of the Voyager Golden Record selection of music included in the Voyager spacecraft launched in 1977.
Find out more about:
Universities in Bulgaria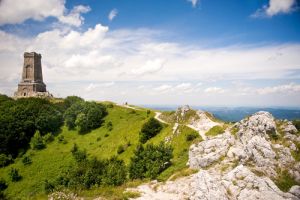 There are 51 universities in Bulgaria, which are well-respected internationally. Academic institutions in Bulgaria offer various programs taught in English, French or German, which are popular among foreign students, and some universities also offer programs which are jointly accredited. English-taught courses are common at master's level and becoming increasingly common for medical degrees. PhDs usually take three years to complete.
Higher education in Bulgaria follows the Bologna process, which ensures compatibility with the qualifications on offer across European universities. This means that higher education follows the usual stages of bachelor's, master's, and doctorate. Undergraduate degrees take four years to complete, while master's programs take one or two years (or five years if you directly after graduating from high school).
Three Bulgarian universities appear in the QS University Rankings: EECA 2016, a ranking of the top 200 institutions in Emerging Europe and Central Asia. These are:
Sofia University St. Kliment Ohridski 
Sofia University St. Kliment Ohridski is the only Bulgarian university to feature in the QS World University Rankings 2016/17®, in the 651-700 range. It's also ranked within the top 50 of the QS University Rankings: EECA, in 46th place. Also known simply as Sofia University (SU), Sofia University St. Kliment Ohridski was established in 1888, and is both the oldest and largest university in Bulgaria, with several campuses spread across capital city Sofia. Offering degrees spanning a broad range of subjects in the fields of humanities, sciences, law, IT, medicine and economics, the university is well-known for its research, including contributions to Antarctic exploration. In commemoration of the university's centennial in 1988, a group of mountains on Alexander Island in Antarctica were named the Sofia University Mountains.
American University in Bulgaria
Ranked 151-200 in the EECA ranking, the American University in Bulgaria (AUBG) is a private university which was founded in 1991. As the name suggests, it offers courses taught in English, and it has an international faculty and student body, with 39 nationalities represented on campus out of 939 students as of spring 2016. The American University in Bulgaria is located in the city of Blagoevgrad in southwestern Bulgaria, which is home to a large student population. Baccalaureate degrees from AUBG are accredited both in Bulgaria and the US.
Trakia University 
Also ranked 151-200 in the EECA table, Trakia University is located in the city of Stara Zagora in Southern Bulgaria and was established in 1995. It was named after the historical region of Thrace and mainly teaches in Bulgarian, but recently began offering a small number of programs in English, including medicine. Trakia University has around 8,200 students enrolled from Bulgaria and abroad, and students can take part in Erasmus exchange programs and international research projects.
Other well-known Bulgarian universities include:
St. Cyril and St. Methodius University of Veliko Tarnovo, which is known mainly in the humanities field;
Plovdiv University "Paisii Hilendarski", which is reputed particularly for natural and social sciences, cultural research and technology;
Higher School of Management, Varna, (previously known as the International University College), which is a hub for foreign students from more than 40 countries and offers many English-taught programs.
Several UK universities have international faculties located in Bulgaria, including the University of Sheffield.
Explore other study destinations in Europe
Student life in Bulgaria 
One of the main attractions of student life in Bulgaria is the relatively low cost of living, including accommodation, student tuition fees, public transportation and food. Prices vary from town to town, but overall you can expect your expenditure on food to be around half what it would be in a country such as the UK, and accommodation and utilities around a third of those in the UK market (sometimes even less). Bulgarians are very friendly, but watch out for potential misunderstandings – they tend to shake their heads to mean yes and nod for no, which can be a little confusing at first!
Apart from low tuition fees and living costs, there are lots of other reasons to study in Bulgaria. It is a popular tourist destination, famous for its sandy beaches and coastal resorts, and also for its beautiful mountain ranges and snowsports. If you're interested in history, you'll also find plenty to explore. One of the country's oldest historical sites, the Thracian Tomb of Kazanlak, dates back to the 4th century BC. Meanwhile some of the most famous treasures in the world were discovered at the Varna Necropolis burial site, including the world's oldest golden ornaments.
Find out more about life in Bulgaria's major student cities:
Sofia

Bulgaria's capital and largest city, Sofia is also the 15th largest city in the European Union, with a population of 1.2 million people. A major political, economic and cultural center, it is located in the west of Bulgaria, on the lower slopes of Mount Vitosha. Its history includes settlements of Thracian tribes and Romans, and it was once the favorite city of Emperor Constantine the Great, who called it his "Rome".
Today, you can still see the remains of Roman buildings in the center of the city. But alongside its well-preserved heritage, Sofia is a modern European city with a laid-back atmosphere and lots to do. The capital even has an entire district dedicated to students, known as "Student Town", which has over 40,000 residents. Here you will find the student halls of all the city's universities, as well as libraries, shops, clubs, bars and parks.
Sofia is home to many of the best-known Bulgarian universities, including Sofia University St. Kliment Ohridski, which features in the QS World University Rankings, and an international branch of the UK's University of Sheffield.
Plovdiv

The country's second-largest city, Plovdiv has a population of about 342,000, and a lively cultural and nightlife scene. It is another of Europe's oldest settlements (older than Rome, Athens, Carthage or Constantinople and almost a contemporary of Troy), built upon layers of older towns and cultures. The historic old town district contains remains from Bulgaria's National Revival period (18-19th century) and is basically an open-air museum situated on three hills, known in Roman times as Trimontium. The old town also contains a well-preserved ancient Roman theater, which is still used for open-air performances. Plovdiv is home to one of Bulgaria's most notable universities – the Plovdiv University "Paisii Hilendarski".
Veliko Tarnovo

Among Bulgaria's oldest settlements, Veliko Tarnovo has a history dating back more than 5,000 years, and was the capital of Bulgaria for several centuries, before the Ottoman dominion. Veliko Tarnovo was known as the most unconquerable Bulgarian fortress, as well as a major cultural and intellectual center. Today, the most significant monument in Veliko Tarnovo is the well-preserved medieval fortress Tsarevets, situated on a peak above the city and surrounded on three sides by the river Yantra. The fortress and Veliko Tarnovo's old town district are must-sees for all those with an interest in the medieval period. The city is home to one of the most prestigious Bulgarian universities, the St. Cyril and St. Methodius University of Veliko Tarnovo.
Blagoevgrad

A small, charming city in the southern part of the country, Blagoevgrad is situated at the foot of the Rila and Pirin Mountains, the highest and most beautiful ranges in Bulgaria. One of the most famous local tourist attractions is the Rila Monastery, founded in the 10th century AD, which is only half an hour away from Blagoevgrad. The monastery is among Bulgaria's landmark attractions; tourists from around the world come to admire this old Christian sanctuary, many remarking that there is something magical about the place.
The city itself is quite small, but has a vibrant cultural life. It is home to two universities, one of which is the English-medium American University in Bulgaria. Students make up a significant segment of the local population, and many are international, so if you choose to study here you certainly won't feel alone.
Explore other popular study destinations in Europe
Applying to universities in Bulgaria

You should apply directly to your chosen Bulgarian university. Most Bulgarian universities require international applicants to provide copies of relevant documents, which may include a diploma or certificate proving successful completion of the previous stage of education, a medical certificate, a valid passport or ID, and an English language test result (if studying in English).
Some universities may ask you to sit an exam to test your Bulgarian or English language skills (depending on the language you intend to study in). If you fail this exam, you may have the option to enroll in a year-long preparatory course studying either Bulgarian or English.
The deadline for applying to universities in Bulgaria is usually 30 September in the year before the course commences for English-taught courses, or 15 September for courses taught in Bulgarian. However, this may slightly vary from institution to institution.
Visas to study in Bulgaria

European Union citizens do not need a visa in order to study in Bulgaria. All that is required is a valid passport or ID and you're good to go! However, if you're staying longer than three months for your studies, you'll need to register with the police and present proof of your student status. You'll then receive a national identity card and temporary residence lasting up to five years.
If you come from a non-EU country, you will need to apply for a Bulgarian student visa (D-type), which you can apply for either online or in person at your nearest Bulgarian embassy.  
The documents you need may vary depending on your nationality, so for full details you should check with your Bulgarian embassy. However, the usual documents needed are:
Acceptance letter from a Bulgarian university
Photocopy of your passport, which should be valid for at least one year after your intended period of study ends
Valid health insurance
Bank document showing that you've paid the necessary upfront payment on tuition fees (typically half of an annual fee)
A recent passport-sized color photograph, with a white background
Photocopies of any previous visas you've had for travel to Bulgaria, the US or the UK, if applicable.
After you arrive in Bulgaria, you must apply for a residency permit, which costs BGN 500 (~US$285), is valid for one year, and is renewable every year during your studies. An application for a residency permit can only be submitted after you have fully enrolled at university.
Fees and funding

Tuition fees are relatively low in Bulgaria. StudyinBulgaria.com estimates average fees of €2,900-8,000, with medical degrees at the higher end of this spectrum. A one-year preparatory course in English or Bulgarian costs around €2,500 (~US$2780).
EU/EEA and Swiss students of all study levels are eligible to apply for the Bulgarian tuition fee loan, and Bulgarian universities may offer scholarships to help overseas students fund their studies.
As mentioned earlier, living costs are cheap in Bulgaria, especially in comparison to other study destinations. Your living costs, including accommodation, transport, food and other expenses, are likely to amount to about US$7,200 per year (estimate based on the average monthly costs in euros here) – though you may wish to budget more depending on your lifestyle, spending habits, and city. Rent will be your biggest monthly expenditure – most students live on campus but if you prefer to rent privately, this will cost at least €100 a month (~US$110). 
Explore other popular study destinations in Europe